The Big Picture
Ncuti Gatwa's casting as the 15th Doctor is historic, making them the first Black and openly queer Time Lord in Doctor Who, marking a win for diversity in the long-running series.
Doctor Who's past representations of queerness have been lacking, with queer characters often sidelined or introduced late in the series. Gatwa's Doctor brings much-needed representation and allows the show to fully depict queer stories.
Gatwa's portrayal of the 15th Doctor opens doors for more diverse characters and storylines in the future, potentially leading to a renaissance period for Doctor Who and inspiring more progressive moments in the show.
Doctor Who has been celebrated for its decades of unique storytelling that pulls inspiration from the world around it, using both historic events and mundane moments as foundations for its most memorable episodes. Each era of Doctor Who has introduced a new "Doctor" that whisks viewers away on new adventures across time and space. The series has become so successful (and endless) due to its ability to explore new plot lines through fresh faces leading the way. Ncuti Gatwa's casting as the 15th Doctor is historic as they are the first Black Time Lord to pilot the TARDIS. Neil Patrick Harris shared that they will be the first openly queer Doctor. This decision stands as a win for diversity and progression for the long-running British series. Despite the show creating deeply memorable characters that still are greatly beloved today, Doctor Who has been needing a change like this for a while.
It's been routine for Doctor Who to fall back on a heterosexual romance at the heart of most recent seasons. The romantic tension between a femme companion and the Doctor has stifled Doctor Who's ability to explore other sexualities or romantic relationships. While queer characters have been written into Doctor Who in seasons past, the representation feels a bit too late. Bill Potts (Pearl Mackie) was the first openly queer companion and made her debut in 2017. Doctor Who has implied queer themes and subtext heavily, but has been sheepish when venturing out of its comfort zone like depicting queerness through Jack Harkness (John Barrowman). There have been past secondary characters who have been members of the queer community, but Doctor Who finally being committed to a queer lead is long-overdue and a much-needed milestone that should be celebrated.
What Does a Queer Doctor Mean for Sci-Fi Representation?
Fiction as a genre has been known to take cues from real-world events and use them as foundations for momentous storytelling. However, it's historically been exhaustingly common for science fiction properties to turn a blind eye towards some forms of representation when creating characters to inhabit new worlds. Subtext can only do so much, and for queer fans of science fiction, it can feel as if there's more progress to be made when it comes down to fully telling queer stories. Like Doctor Who, Star Trek has been known for its more forward queer anecdotes as the series has done its best to feature queer characters. There's hope that Ncuti Gatwa's Doctor will allow Doctor Who to take on some of the courage to fully and accurately depict queer people in the arts. Heteronormality can present only one aspect of humanity and its struggles, but it can't capture a universal experience.
To see change, there must be change. Doctor Who could carve out a defining trait for both itself and for the genre as a whole through the validation of the 15th Doctor's identity. There are enough straight characters in science fiction, and the abundance of hetero representation directly blocks out the opportunity for queer voices to be heard. Doctor Who has given itself the opportunity to meet the needs of a genre that begs for even more diversity. Through the simple act of keeping a non-heterosexual character front and center, Doctor Who is able to make up for an aspect that has historically been dramatically lacking across science fiction.
'Doctor Who' Needs a Queer Main Character
In past seasons of Doctor Who, there have been mentions of some characters having LGBTQIA+ identities, it feels like highlighting how their roles played a greater part in the series has been delayed. It took until the late 2010s for Doctor Who to introduce an openly gay companion outside of Jack Harkness. Ncuti Gatwa's 15th Doctor has the potential to embrace his identity and express himself fully without being at risk of being sidelined by screenwriters. This historic decision made by the showrunners is a demonstration of how Doctor Who continues to evolve to best depict all walks of life. It makes sense that the Doctor is queer considering how long they've been alive. Expecting consistent heterosexuality is an unrealistic ask for a character who has gone through multiple identities. How can someone who claims to be over 1,000 years old find themselves routinely experiencing only one type of romantic attraction while moving through all of time and space? It's natural for them to realize that hey, maybe they're not as straight as they think they are.
The series didn't really begin to include romance prominently until the early 2000s reboot aired, and it was the 10th Doctor (David Tennant)'s relationship with Rose Tyler (Billie Piper) that revisited the idea of the Doctor having romantic affairs. In fact, Doctor Who was previously criticized for showing the Doctor having a relationship with their companion. Even after audiences were made more comfortable with romance being a key plot point in Doctor Who, there hasn't been much same attention given to queer storylines. Jack Harkness and Ianto Jones (Gareth David Lloyd) were able to kickstart the visibility of gay relationships in Doctor Who; Madame Vastra (Neve McIntosh) and Jenny Flint (Catrin Stewart) can be credited for their depiction of a domestic Sapphic partnership in the series. While there is some effort here, it still left more to be desired from Doctor Who's queer representation.
Doctor Who now has the potential to relate to a broader audience through a more niche angle, tying adventures through time and space together with relatable, human elements. A queer main character in Doctor Who means that the show can learn from itself while creating fresh, new, and daring new directions to take itself in. Ncuti Gatwa's 15th Doctor is able to bring a new perspective that hasn't been shared before, and that's exactly what the saga needs.
RELATED: 'Doctor Who': Every Doctor Ranked, According to Reddit
Ncuti Gatwa's 15th Doctor Is Just the Beginning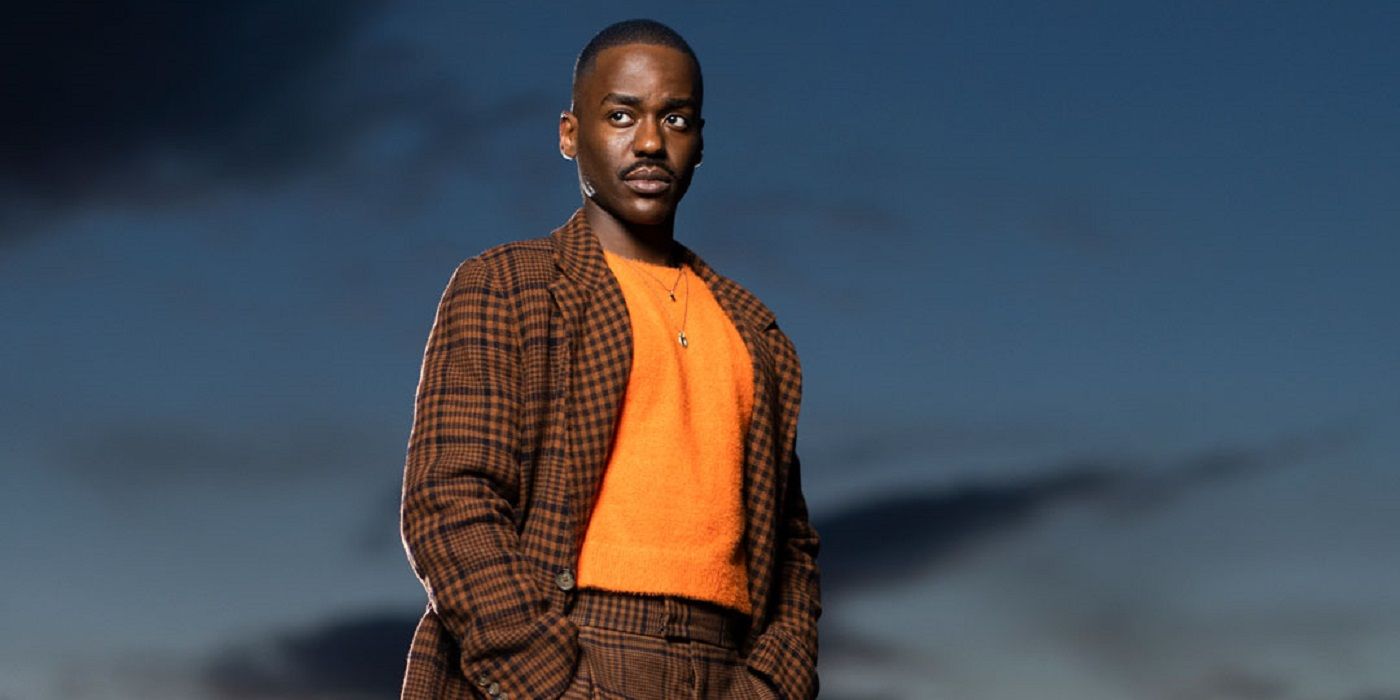 When thinking about the potential influence that an openly gay Doctor could have on the series altogether, Doctor Who could possibly enter a renaissance period of its own. It has been confirmed that Ncuti Gatwa will stay on as the titular Time Lord for at least two seasons, meaning that there could be a broader plan in place for their time as The Doctor already mapped out. More time spent with Gatwa's iteration of The Doctor opens up a world of opportunity when it comes to Doctor Who introducing multifarious types of characters, taking advantage of being able to dig deep into unique backgrounds. Gatwa is the first BIPOC actor to take on the role of The Doctor, and their previous representation of a BIPOC LGBTQIA+ person in Sex Education ensures that they've got the skills to translate the 15th Doctor's experiences with authenticity and genuineness.
Ncuti Gatwa being the first to take on such a significant turning point for Doctor Who doesn't mean they're going to be the last to do so. They're setting an example for what the show should continue to look for. When continuing to push the boundaries of where to take their saga next, a queer main character is just the beginning. In the greater scheme of reality, BIPOC LGBTQIA+ people have been around since the beginning of time; something Doctor Who knows plenty about. This small step towards broader progressive angles in the show could unlock more groundbreaking moves for years to come. It's a matter of Gatwa's change-making to inspire more groundbreaking moments ahead.