Editor's Note: The following contains mild spoilers for Ahsoka Episodes 1 & 2.
The Big Picture
Chopper, the droid from Star Wars Rebels, has a dark history as a war criminal with a high kill count and a penchant for violence and destruction.
Despite fighting for a worthy cause against the Empire, Chopper often crosses the line into cruelty and uses unacceptable levels of violence, even in an animated series aimed at a younger audience.
In Ahsoka, Chopper's rebel days are behind him, but it remains to be seen if he has truly left behind his violent ways or if he will fall back into old habits as the heroes search for their missing friend.
Droids have always been an important part of Star Wars, and Ahsoka is no different. But Ahsoka's (Rosario Dawson) companion, Huyang (David Tennant), is not the only droid in the show. The series brings back many characters from Star Wars Rebels, including the chaotic astromech Chopper (Dave Filoni). A veteran of the Rebellion, Chopper is no stranger to high-stakes situations or conflict. In fact, he thrives in that environment. Throughout Rebels, he travels with the Ghost's crew, loyally helping Hera Syndulla (Mary Elizabeth Winstead, voiced by Vanessa Marshall) and her small band of Rebels fight the Empire. Like so many other droids in the universe, Chopper developed his own personality and opinions, making him mischievous and often argumentative. This also led to Chopper having his own ideas and, quite frankly, crossing lines even for wartime.
With his revolutionary past, Chopper has a dark history. The droid being a war criminal may sound like a joke, but it's actually very real. Though it's unclear what exactly constitutes a war crime in the Star Wars galaxy, Chopper has committed several actions that qualify in our world. His less-than-ethical methods and high kill count mean Chopper has definitely broken the Geneva Conventions. Throughout Rebels and, assumedly, the rest of the Rebellion, Chopper targeted the Empire unrelentingly. And he remains by Hera's side even after their victory. But, as Ahsoka takes place after the Rebellion ends, Chopper no longer has that outlet for his worst intentions. Chopper takes a violent approach to the Rebellion, but now that there is relative peace in the galaxy, what will he do with his time and affinity for causing chaos?
RELATED: This Is the Meaning Behind That Mural on Lothal in 'Ahsoka'
So What War Crimes Did Chopper Commit Before 'Ahsoka'?
Certainly, Star Wars is not governed by the same laws as the real world. The laws of science alone don't transfer. So, it is unreasonable to expect war crimes to be a one-to-one comparison. Star Wars could have no in-universe rules to incriminate Chopper, but there is a basic moral standard to hold the characters to. War crimes are meant to be a very minimal requirement, outlawing such things as threatening and using torture methods, setting off a weapon of mass destruction, killing innocent people, killing a surrendering enemy, and needless destruction of civilian structures.
According to fan calculations, Chopper has an unconfirmed kill count of over 50,000. Most come from his unrepentant sabotage of enemy ships. In Rebels, Season 2, Episode 8, Chopper takes down the Indictor and two Imperial Cruisers, and with roughly 4,700 individuals on one of these ships, the explosion killed thousands. Though not technically a weapon, this is an instance of mass destruction. Chopper can be seen committing another war crime when he destroys the sewers of Lothal. On several occasions, he violently murders other droids, even one imperial droid who had turned to help his friends. He even attempts to kill his fellow crew member, Ezra Bridger (Taylor Gray), a few times. Chopper is also known to threaten and use electrocution as a torture method. In Season 2, Episode 9, Chopper even recommended infanticide. When the team is trying to rescue a Force-sensitive baby from the Empire, Chopper recommends killing the infant to prevent the Empire from training another Inquisitor. Fortunately, his fellow rebels prevent this horrific action, but Chopper is entirely serious. Basically, Chopper is unafraid to use great violence for his ends and, by real-world standards, definitely qualifies as a war criminal.
Can 'Ahsoka's Droid Be Held Accountable?
In Rebels, Chopper and his friends clearly have an evil enemy in the Empire. Fighting against the tyranny of Palpatine's rule, Chopper stands for a worthy cause, even when his actions are questionable. The franchise taught the audience to believe that opposing the Empire is honorable, and that's usually true. But it's not necessarily the case the way Chopper does it. The droid is unafraid to move from acceptable violence into cruelty despite appearing in an animated series with a younger target audience.
Chopper started life as a navigational astromech in Clone Wars, but after he was damaged in a battle on Ryloth. There, a young Hera found and fixed him, and Chopper remained by her side since. It's no surprise that Chopper has seen some things, especially considering Hera grew into a Rebel leader and took him along. As the resident droid on the Ghost, Chopper often repaired the ship, decoded transitions, and performed whatever jobs needed for their missions. But he did so without any hesitation in showing off his personality through complaints, independent actions, and, yes, sometimes committing war crimes. Though not an organic being, Chopper makes it very clear that he is in control of himself, often using his volition to defy orders. Though it isn't clear if Chopper has a conscience per se, he is certainly responsible for his actions.
What Part Will Chopper Play in 'Ahsoka'?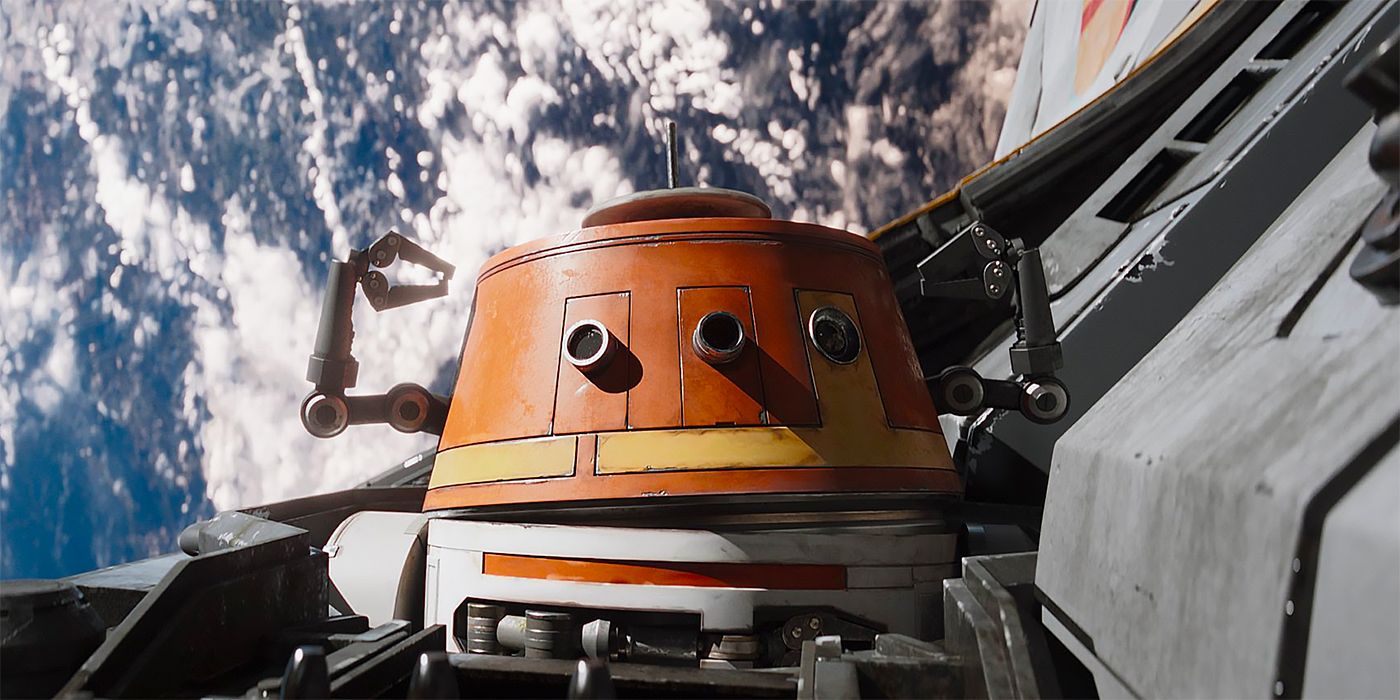 In Ahsoka, Chopper's rebel days are behind him. With the Empire gone, the galaxy has reached a new age of relative peace. Though there are some issues for the New Republic to deal with, Chopper is in a very different situation. Chopper's appearance so far has been brief, and it's unclear how he has adjusted to the newfound peace. He appears to be in the military with Hera, who now holds the title of General. But the struggling New Republic isn't equipped to handle Chopper's Sith-level of violence or any resulting issues that come from that. The New Republic is preoccupied with Imperial remnants and unlikely to pursue Chopper's questionable actions, especially since he doesn't look like a criminal mastermind. But the big question is if the droid has left behind his violent ways. Ahsoka has given no indication either way, but as the heroes search for their missing friend, Chopper could easily fall back into old habits.
Chopper delivered chaos and devastation throughout the Rebellion, and it's unlikely all of those tendencies would end immediately. So, as always, there is no predicting what the astromech may do next. Though he ventures into questionable morality, it is often overlooked in Rebels because of the tone of the show. With Ahsoka already demonstrating a darker tone, it's possible Chopper could be free to take more dubious actions than ever. But whether he has learned or not, it's nice to see Star Wars' funniest war criminal return in Ahsoka.