The Big Picture
Star Trek: The Original Series faced censorship in both the U.S. and U.K. due to controversial content, including the first televised interracial kiss.
The UK's Office of Communications (Ofcom) banned several episodes of The Original Series for nearly 20 years, citing concerns about violence and negative influence on children.
While later iterations of Star Trek also feature controversial themes like torture and mental illness, they have not faced the same level of censorship as The Original Series.
Censorship has been front of mind in culture recently, as books and other forms of media have come under scrutiny from all sides. As one of the most famous depictions of Utopia, it might seem surprising that Star Trek faced censorship as far back as The Original Series.
Networks and regulatory bodies of various nations review content before making it available to the broader public. The United States' Federal Communications Commission (FCC) regulates our airwaves, and states frequently apply their own added layer of regulatory oversight, causing censorship to be applied unevenly across the country. This is not the case for other countries with more centralized governments.
Star Trek: The Original Series ran from 1966 to 1969, during one of the most culturally tumultuous times across the globe. A Utopian picture of a galactic future, the show frequently pushed boundaries. Season 3, Episode 10, "Plato's Stepchildren," found itself banned across much of the Southern U.S. for featuring the first televised interracial kiss. Interracial marriage was only legalized across the U.S. in 1967, so as norms shifted, so did censorship. Not so in the United Kingdom. The regulatory body in charge of television content moderation across the pond, Britain's Office of Communications (Ofcom) banned four episodes of The Original Series for nearly 20 years.
RELATED: How Star Trek's Klingon Became a Fully Developed Language
Star Trek's History of Censorship in the U.K.
The hubbub began in 1970, during the initial U.K. run of the Original Series. The BBC aired "Miri" (Season 1, Episode 8) in which the crew of the Enterprise receives a distress call from a planet experiencing a violent plague. They arrive to find that the illness affects only adults, leaving a planet full of children to fend for themselves. Filled with homages to Lord of the Flies, the children are far less innocent than they seem.
Ofcom was flooded with complaints about the violence of the episode and the risk of influencing children to behave with similar malice toward the adults in their lives, especially since The Original Series was considered to be more of a children's show in the U.K. The episode never aired on BBC again, and the affair led Ofcom to be much more discerning about future episodes. The series' third season became a particular victim to Ofcom's censors, with Episodes 10, 12, and 14 being banned from airing entirely, all for similar reasons.
"Whom Gods Destroy" Was Banned in Several Countries for Decades
Season 3, Episode 14, "Whom Gods Destroy," is an interesting example. The episode was banned from airing in several countries for decades. The U.K. was the last to release the episode, unavailable to British citizens until 1994, but it was banned from Germany and Japan for nearly as long.
In the episode, the Enterprise arrives at Elba II, a Federation asylum for the "criminally insane", to deliver an important medication. Captain Kirk (William Shatner) and Science Officer Spock (Leonard Nimoy) beam down to meet with the director of the facility, Donald Cory (Keye Luke). It quickly becomes clear that he is an impostor who has locked the real Cory in a cell. Fleet Captain Garth (Steve Ihnat), a decorated Starfleet officer with violent tendencies and the ability to shapeshift, has led the inmates in a takeover of the facility.
Garth's intentions are far broader than mere freedom or control of Elba II. He takes Kirk's form and attempts to have the Enterprise beam him up. He cannot provide Kirk's passcode and is denied. Garth attempts multiple forms of coercion to get the code, soliciting the help of Marta (Yvonne Craig), an Orion slave, to gain the information through seduction. Garth tortures Kirk and Cory for information. Using misdirection to boost confusion, Garth takes Kirk and Spock's forms at various points throughout the episode. The episode culminates in Spock shooting the impostor Kirk and Cory administering the medication to cure his patients.
When asked about the decision to ban this episode, the BBC stated they banned the episode because it "dealt most unpleasantly with already unpleasant subjects of madness, torture, sadism, and disease." The episode is not particularly well-loved and appears on lists of the worst episodes of TOS. It is not derided for what makes it stand out but for its replication of so many Trek tropes. Garth even uses the same torture chair used in Season 1! However, the chair's first appearance in Episode 9, "Dagger of the Mind," was not banned in the U.K. It may come as a surprise that nearly no episodes of subsequent Trek shows were banned by U.K. censors, even though torture and mental illness are frequent themes throughout.
Other Controversial Star Trek Episodes Have Featured Similar Themes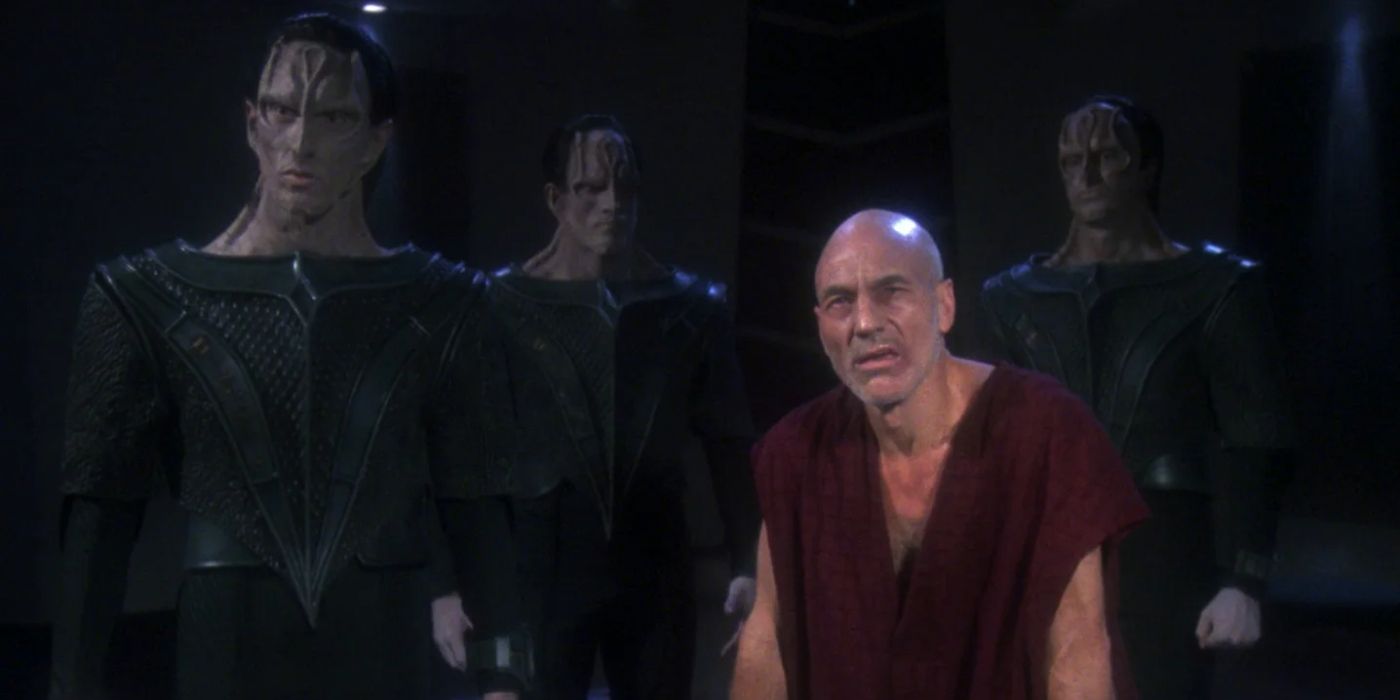 Star Trek is infamous for its depictions of torture, which appears in nearly every Trek series. Nearly every captain falls victim to torture in their career. It is often referential or analogized: the four-light torture of Picard (Patrick Stewart) in Star Trek: The Next Generation is iconic in its own right while still paying homage to 1984, and the Cardassians of Deep Space Nine are clear stand-ins for Nazis. Even 21st-century Treks engage in torture. The agonizer booths of Discovery bear an indisputable resemblance to the torture chairs of TOS.
It is no coincidence that the other two banned episodes from The Original Series Season 3 featured torture prominently. All three episodes are interesting because the type of torture they feature spans the brain, body, and spirit, which may explain why these episodes were deemed so inappropriate for viewers for so many years. Realistically, the torture in these episodes pales compared to the depiction of torture in later series, but changing social norms have protected those from censors.
Try as it might to build a positive view of the future, depictions of mental health are also a struggle for Trek. Even though the stated purpose for Enterprise's trip to Elba II was to deliver a medication that would "cure" the mental illnesses of those imprisoned there, mental illness is another recurring theme throughout the franchise. While most post-TOS depictions of mental illness shy away from characterizations like "criminally insane," they aren't totally gone. Voyager's Lon Suder (Brad Dourif), a Betazoid with psychopathic tendencies, is a criminal when he is introduced as a member of the Maquis. He spends most of his time onboard Voyager trying new coping tools for keeping his own violence at bay. If the medication provided at Elba II had worked, it is perplexing why Suder would be so affected. Other depictions of mental illness in later Trek series include Lt. Barclay (Dwight Schultz), who is never violent but is depicted as creepy, much like Elim Garak (Andrew Robinson) in Deep Space Nine.
Almost no episodes from later Treks have been banned outright by the U.K.'s censors. Many get cut down slightly for excess violence, but the only one to be banned in the second Trek era is one episode of TNG, not for its depictions of torture or violence or mental illness, but for an off-hand reference to a unified Ireland. "Whom Gods Destroy" is an example of how the application of censorship in media changes. In the thirty years the episode has been available in the U.K., no mass hysteria has ensued. Episodes of newer iterations of Trek air without note, even when they include unpleasant depictions of unpleasant topics.