The Big Picture
Pedro Pascal's portrayal of Oberyn Martell in Game of Thrones was a standout performance filled with charisma, intrigue, and drama.
Oberyn Martell challenged traditional Westerosi beliefs, expressing his attraction to men and embodying a unique form of masculinity.
Oberyn's ultimate downfall was due to his arrogance and pride, resulting in a gruesome death that left a lasting impact on viewers.
Pedro Pascal has become nothing short of an icon in the past few years. Between his leading role The Mandalorian and The Last Of Us, he's become an absolute darling to nerds everywhere. His surge in popularity has nothing to do with any shift in his talent, Pascal has been a delight onscreen for years, he's just finally getting the adoration and acclaim he deserves. Some were first introduced to Pedro Pascal through his work on Narcos or perhaps in his stint as the villain of the second Kingsman film, but for many of us, the first place we got to really see Pascal shine was on Game of Thrones. Pascal arrived late on the scene, not appearing until the show's fourth season (widely regarded as the strongest in the show), and though he only remained for Season 4, the mark he left on the show and its fans was enormous. Pedro Pascal's season-long run as Oberyn Martell, the second prince of Dorne, was not only a wonderful performance from a beloved actor but one of the strongest performances in Game of Thrones as a whole.
Who Was Oberyn Martell in 'Game of Thrones'?
Oberyn Martell is a prince of Dorne who came to King's Landing in Season 4 of Game of Thrones to attend the wedding of Joffrey Baratheon (Jack Gleeson) in place of his brother, King Doran (Alexander Siddig). He's established as a wild card right from the start, failing to meet Tyrion's (Peter Dinklage) reception for him as he and his wife have already made their way into one of the city's brothels. Dorne is a place with a greater sense of personal freedoms in a variety of ways. Sexuality, gender, disability, and so on are not treated as unbecoming things for a person to be but simply traits a person can have. They love freely, and so we see Oberyn's devotion to his lover, Ellaria (Indira Varma), but also his lust for both men and women. It confounds people like Tyrion but displays quite clearly that this is not a man who will easily bow to the whims of others. He doesn't care about conforming to the Westerosi sensibilities. We learn that he's come to King's Landing not just for the wedding but to seek out The Mountain (Hafþór Júlíus Björnsson) who raped and killed his sister as well as her children. He warns Tyrion that Lannisters are not the only ones who pay their debts.
Oberyn is a breath of fresh air amid the posturing that characterizes most interactions in King's Landing. He's willing to play nice while he has to, but he's not one to pull punches for formality's sake. He agrees to be part of Tyrion's trial and spends some time on the small council but through all of this he maintains steadfastness in his calculated opposition to the Lannisters. He has a tense conversation with Cersei (Lena Headey) in the gardens where they discuss their love for their families and the lengths they would go to protect them. He tries to assure her that her daughter is safe in Dorne and agrees to take a gift to her, an act of sympathy despite his hatred for her family that shows his ability to empathize even with his enemies. When Tyrion chose trial by combat, Oberyn eventually offered himself as Tyrion's champion knowing that his opposition would be The Mountain. It offered him an opportunity to find the revenge he sought. Though in his quest for it, he ultimately proves to be his own undoing.
RELATED: Pedro Pascal Stole His 'Game of Thrones' Role From the Actor He Was Mentoring
Pedro Pascal Made a Strong Impression as Oberyn, Who Became a Fan Favorite
Even outside his strong character arc, Oberyn makes a memorable impression. His look is distinctly trying for something sexier than the majority of characters. His costuming exudes a more carefree air and he wears warm, inviting shades of yellow and orange. We're introduced to him in the brothel, but it doesn't carry the same sort of shadiness it does for other characters. He's not there to cheat on his partner or to vent any secret dark urges, Oberyn is indulging in the same sort of hedonism he would on a typical day. Not only that he's doing it with Ellaria, immediately showcasing a sort of communication and contentment in a relationship rarely seen by the couples of this show. He's a man of desire but not in the same way as Robert Baratheon (Mark Addy).
He also challenges the heteronormative Westerosi beliefs by openly expressing his attraction to men. Oberyn displays a type of masculinity we rarely see in Game of Thrones. A kind of masculinity that exists outside of being dominant in all things or imposingly dour. He's a lover as much as he is a fighter, he loves the finer things in life and has a strong devotion to his family. His reverence for and respect for Ellaria (and the other women he encounters) is in sharp contrast to the patriarchal tendencies we tend to see showcased by the majority of powerful men in this show.
It's hard to introduce a threatening new character four seasons into a show full of dangerous people, but Oberyn pulls it off with flying colors. The disarming charm Pascal brings to the role immediately grabs our attention, but it's his cunning and edge of barely concealed anger that makes him really stick out. His intimidation doesn't come from what we're immediately shown about him, but rather from how much is concealed. His motives are immediately clear and his presence as a threat is obvious, his capabilities however are left up to the imagination. We get to know him as a person first, we see how fun he is, we see how different he is from the stuffy politicians we usually see, and we see how he plays by his own rules. He's an unsettling presence for the status quo we've come to know not only as an outsider but as a character whose goals exist seemingly entirely divorced from the fight for the Iron Throne. For book readers, this was a deviation considering the fact that the Dornish plot is one of the major reasons why the Martells are so interesting, but for show watchers, it made him stand out from the schemers.
But what gives him an edge aside from his gripping characterization is his strong motive. Oberyn's quest to avenge his sister and her children is immediately resonant. The audience has already come to resent and fear The Mountain through his relationship with The Hound (Rory McCann) so introducing Oberyn with this immediate connection to The Mountain gets us to sympathize with him a bit but also be wary of him. Anyone who thinks they're strong enough to take down The Mountain is not to be taken lightly. And as the season unfolds we see that Oberyn's clever enough to keep up with the likes of Tyrion and Tywin (Charles Dance), some of the smartest characters on the show. By the time we get to the trial by combat and the decisive fight with The Mountain, Oberyn Martell has established himself to be a veritable threat (and fan favorite) that could have a drastic impact on the politics of King's Landing.
Oberyn's Legacy Is Unfortunately a Bloody One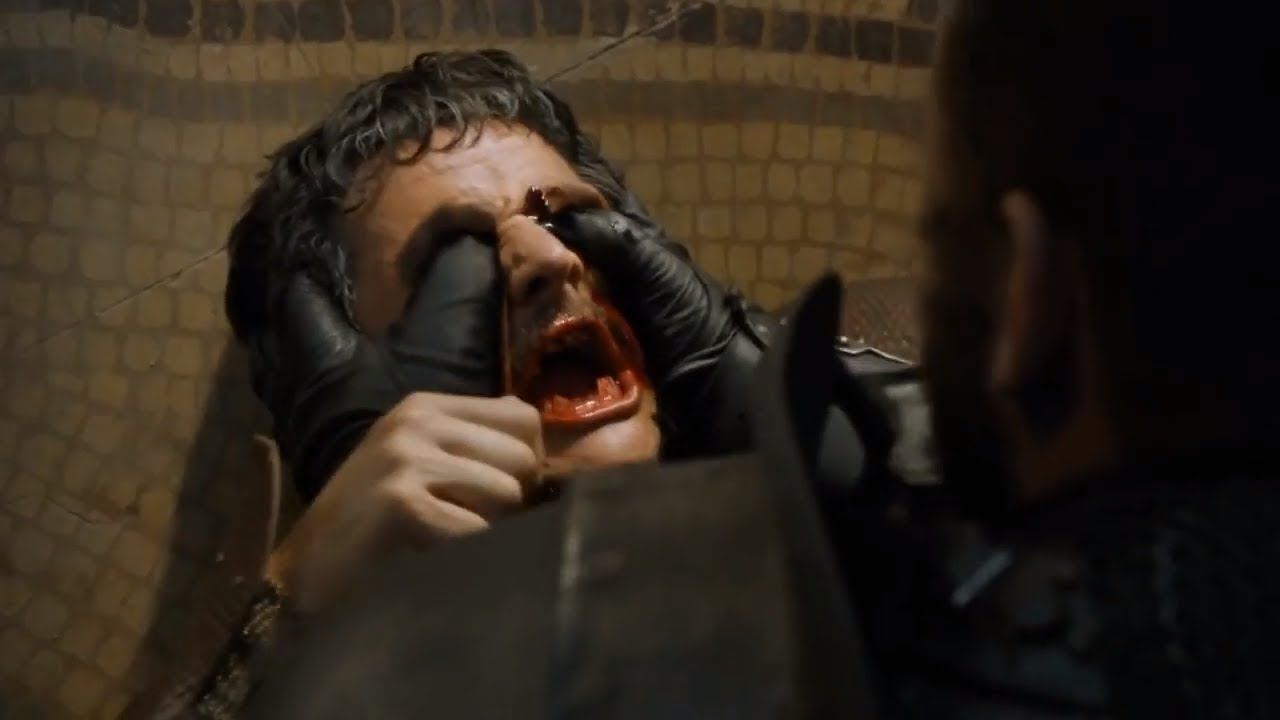 Unfortunately, Oberyn's ultimate fate shows us that despite his promise, the arrogance and pride that have made him so immediately captivating would be his downfall. Just as he exploded onto the scene, his exit was just as tremendous. The fight between The Mountain and Oberyn Martell is the synthesis of a variety of plots: Oberyn's revenge, Tyrion's trial, Tywin's plot to finally be rid of his unwanted child. The fight itself is spectacular, Oberyn moves like water, striking lightly with his spear in stark contrast to the brute strength The Mountain showcases. It's one of the tensest fights in the entire series, and it nearly ends in victory with Oberyn bringing The Mountain to his knees. But then he demands that The Mountain confess his sins.
As any failed villain will tell you, never let them monologue. He wants to hear The Mountain admit what he did to the Martells with his own ears and while he demands his answer, but this pause in the action allows The Mountain to turn the tides. His quest for a complete victory spelled his doom and The Mountain finally confessed as he knocked Oberyn from his feet. In one of the most gruesome deaths in the show, The Mountain kills Oberyn by crushing his eyes through his skull. Just as he was blinded by his own hubris, Oberyn was blinded in death. It wouldn't be unfair to say this fight and this brutal death had nothing to do with Oberyn's memorability. But his death would not have held so much weight had Pascal not brought so much to the short time we got to spend with Oberyn.
Years down the line and with Game of Thrones far from the commercial and critical darling it was during its fourth season, Oberyn Martell remains a standout character. Pedro Pascal's career and notoriety have skyrocketed in the ten years since he graced our screens as the Prince of Dorne but the charisma, intrigue, and drama he brought to the show was enough to leave many of us mourning his departure after only eight episodes and welcoming his return as Space Daddy and Post-Apocalyptic Daddy. Oberyn was a shock to the system for Game of Thrones, a dangerous wild card that made waves everywhere he went. He was strong enough to go toe-to-toe with some of the most intimidating characters Westeros had to offer, and he nearly came out victorious. He was dynamic, lovable, hedonistic, clever, and funny. He was a bright spot amid an already glowing season of television. For all of us who wanted more Oberyn Martell, we at least get to watch Pascal's career flourish and will hopefully continue to do so for a long time to come.