Posted in: Comics, Comics Publishers, Current News, Marvel Comics | Tagged: human torch, Marvel Age #1000
---
Marvel age #1000 contains a story, Machine Learning, by Mark Waid, Alessandro Cappuccio, Mattia Iacono and Joe Caramagna.
---
In the celebratory Marvel Age #1000 published today, editor Tom Brevoort sets out the kind of stories he wanted. "MARVEL AGE #1000 is meant to be a large one-shot publication celebrating the whole of the Marvel line, but, in particular, those aspects of its characters and its history that are best representative of it as a whole. And my intention is that each story should touch on something special and definitive about Marvel. Consequently, I am looking for stories with heart that will be memorable and can touch readers in a profound way. Certainly, there's a place for action in these stories—action has always been a hallmark of the Marvel line, after all. But I'm more interested in capturing some of the humanity and reliability of our characters. Small stories are just as welcome and perhaps even more welcome than large stories."
I am not entirely sure how intended this was, or if I am really overreading here, but the opening story, Machine Learning, by Mark Waid, Alessandro Cappuccio, Mattia Iacono and Joe Caramagna certainly does… something. It's a retelling of the story from Marvel Comics #1 in 1939, with Edward Horton creating the Human Torch. Spoilers ahead, of course.
With the Human Torch gaining a moral code by listening to police radio dramas of the thirties. And giving him a language structure as well, maybe explaining some of his more colourful phrases back in the day.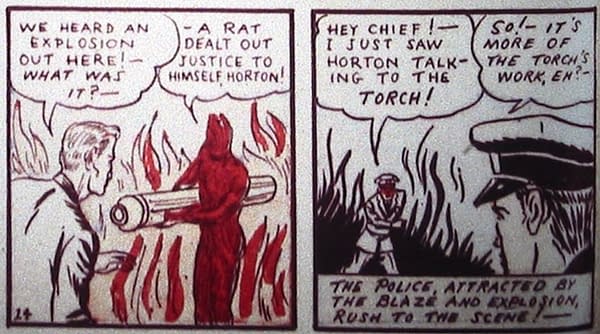 But the Human Torch realises his creator is not as altruistic as he once may have believed.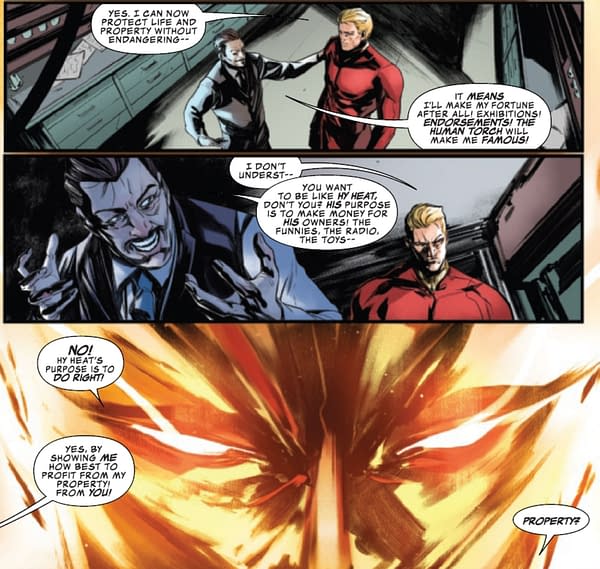 Which echoes the original Human Torch story as well, with Edward Horton being only interested in the financial aspect of the Human Torch, and the Torch rebelling against such mercurial motivaion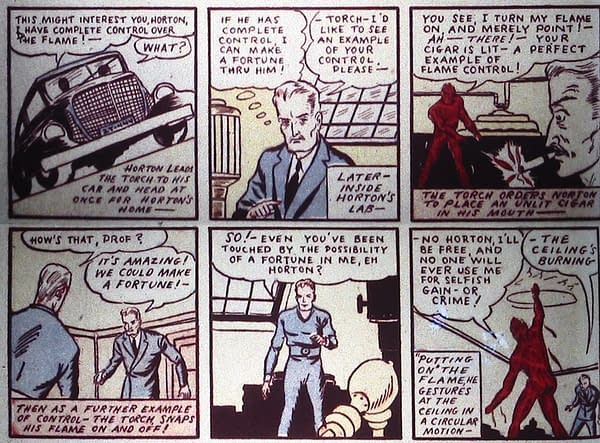 In this version, the Human Torch approaches the police, the only arbiters of morality that he knows, for an education.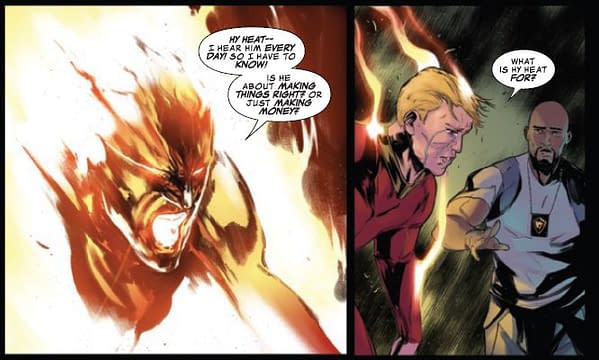 And while the concept of people free, rather than property, is the principle being underlined, as well as the idea that motivation should be more than a profit motive, the concept that births the superhero…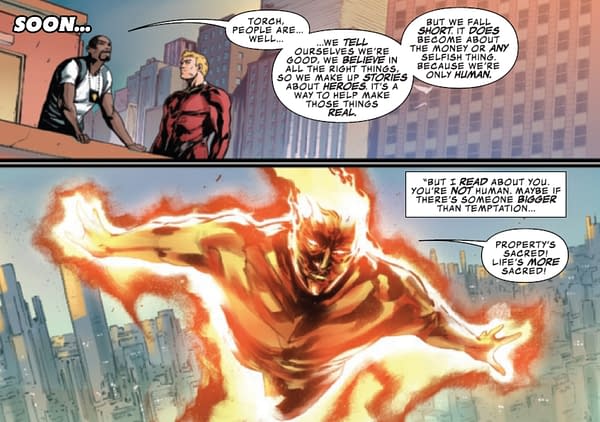 … it also seems to be a paeon to creator rights for comic books, something that Marvel Comics has repeatedly gone to the courts to prevent. And also fighting against the bean counters of the comic book publishers, the books that get cancelled, the staff that get fired, the variant covers that multiply, the attempt to squeeze blood out of a stone when they do have a hit, basically… capitalism. And the first story of Marvel Age #1000 can be seen as a condemnation of the very publisher who put the comic book out.  I said it was weird.
MARVEL AGE #1000
MARVEL COMICS
MAY230682
(W) Rainbow Rowell, Jamie McKelvie (A) Various (CA) Gary Frank
IT'S A CELEBRATION OF THE MARVEL AGE OF COMICS – AND YOU ARE INVITED! This massive commemorative issue includes contributions from some of the most storied creators in Marvel history, as well as a few surprises, as the classic days of Marvel are explored in depth! J. Michael Straczynski and Kaare Andrews create the Marvel Universe in a backyard! Dan Slott and Michael Allred depict a crucial turning point for Captain Marvel! Rainbow Rowell and Jamie McKelvie Marguerite Sauvage explore the blossoming relationship between Cyclops and Jean Grey! The original Human Torch finds his purpose thanks to Mark Waid and Alessandro Cappuccio! The Silver Surfer confronts Mephisto under the guidance of Steve McNiven! And more, more, more! Plus: The ultimate Marvel Value Stamp, #1000! Who or what will it feature? Rated T+In Shops: Aug 30, 2023 SRP: $9.99
---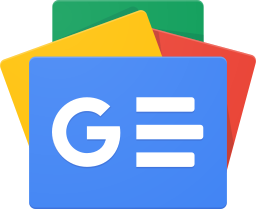 Stay up-to-date and support the site by following Bleeding Cool on Google News today!