Posted in: Comics, Comics Publishers, DC Comics | Tagged: dawn of dc, flash, mike deodato, si spurrier
---
Si Spurrier is writing the new Flash relaunch from DC Comics, drawn by Mike Deodato and pitched as a cosmic horror.
---
Si Spurrier is writing the new Flash relaunch from DC Comics, drawn by Mike Deodato and pitched as a cosmic horror. And yes, that is a very, very different tone to the Flash that Jeremy Adams was writing … but it doesn't ignore it. Flash #796 ended the One Minute War with Max Mercury whizzing off into the sunset to… see what's next.
And that's where the new Flash #1 picks up, with Spurrier and Deodato.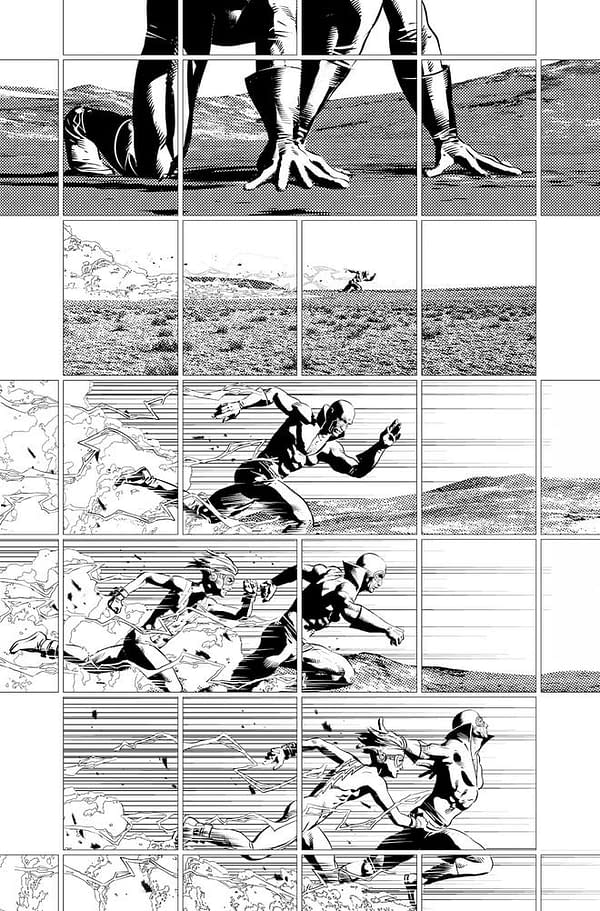 Flash #798 gave us the birth of Wally West and Linda Park-West's third child, Wade.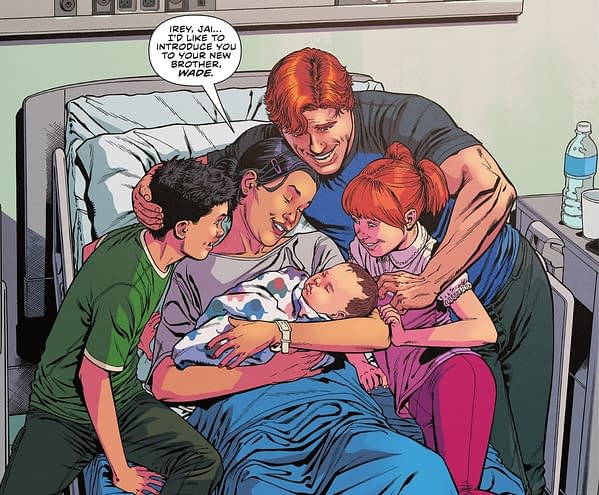 But as Flash #800's preview of Si Spurrier and Mike Deodato's Flash showed us, a new child doesn't fix problems in a marriage. And I speak of experience here. For that you need a new cat.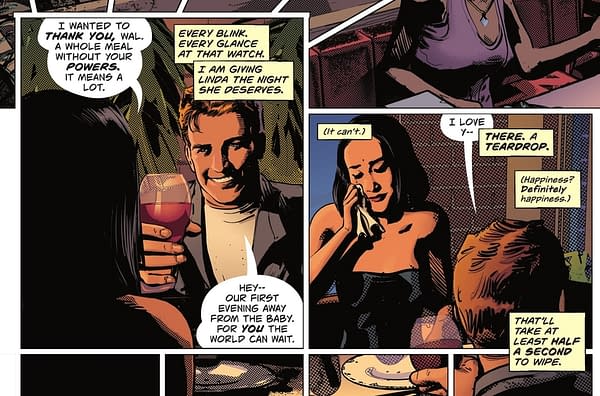 So Wally West, lying to his wife, deals with all his superpower issues in the seconds between the attention he gives her.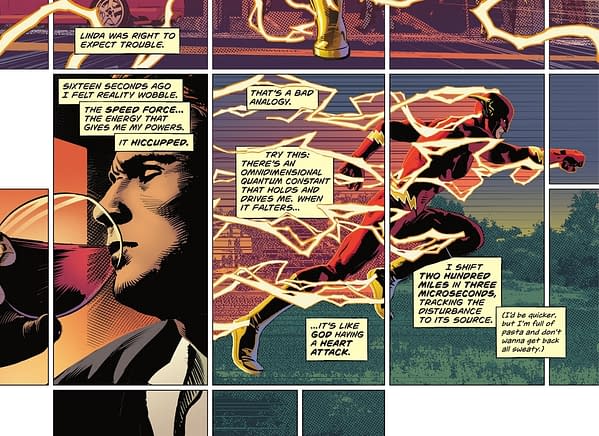 Because there are issues with the Speed Force, the entity, the zone, the dimension, the source of all speedster's speed, whether they know it or not. Which is, if you think about it, a really freakish thing.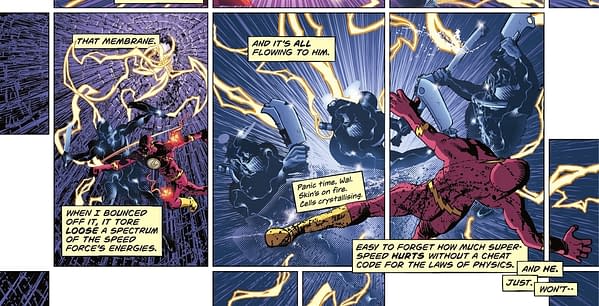 And DC Comics has spent decades making it sound a lot more scientific than it does. And Si Spurrier is no exception there.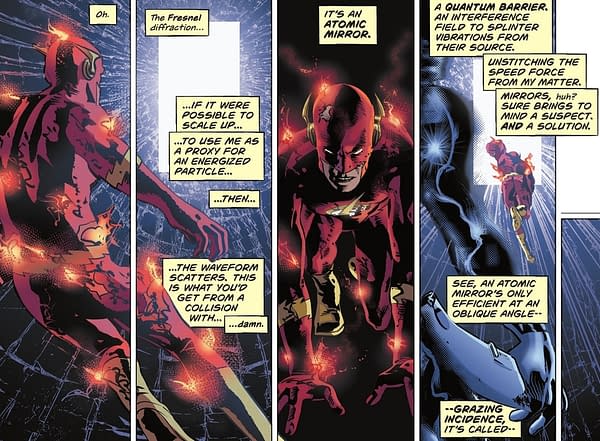 But such words are basically indiscernible to a general comic book reading audience as, say, William Blake's The Marriage of Heaven and Hell or other grimoires.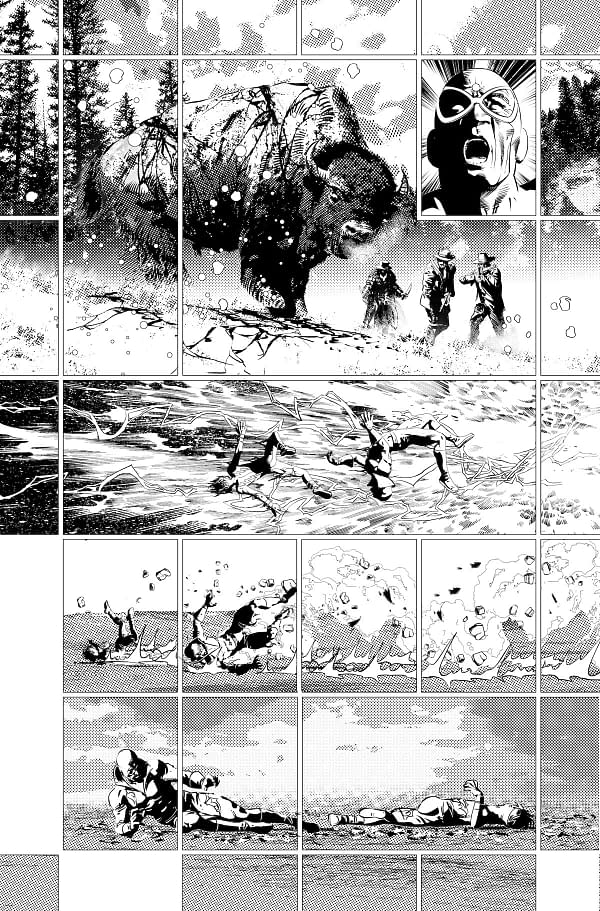 So in the new Flash, we have Max Mercury and Impulse also finding… hiccups with the Speed Force. Something is wrong all over the time and place. And it also gives a chance to reflect on his Flash legacy, passed from one identity to another. We know of previous identities of the man, US Cavalry scout known by Native American tribes as Ahwehota, previously translated as He Who Runs Beyond The Wind but now He Who Rides With The Storm. He was given powers by a dying Shaman… Just as the new Wonder Woman is looking to the Native Americans for the source of a new power, stolen from them.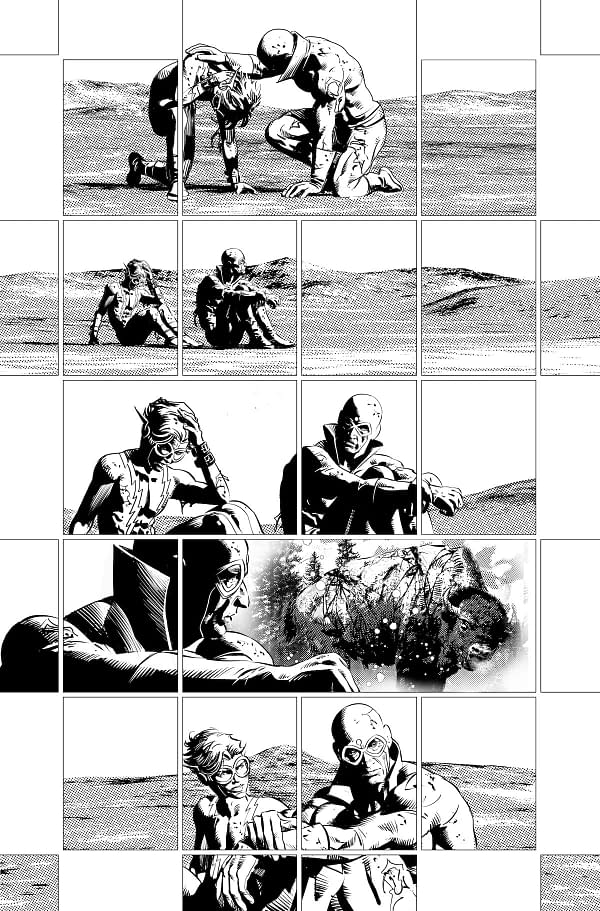 Whip Whirlwind from 1890 is know also known as Scourge Of The Lynch Mob. And there are more. The Phantom Of Mons – the speedster explanation for actually-reported supernatural entities wo protected the British Army from defeat by the invading German forces in 1914 at the beginning of World War I during the Battle of Mons in Belgium. You can look it up. But it wasn't just the British who had a version of Max Mercury, the Germans had him as Das Kugelmonster, or The Bulletmonster. And that's before we got to the already established Golden Age hero Quicksilver.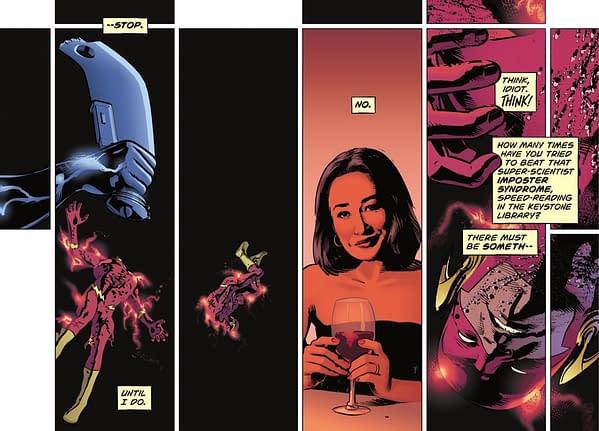 It speaks to a long history of speedsters that is in sharp relief to Wally West's present-day troubles with Linda. The fastest man alive who does his best to make time for his wife, cramming everything else he feels he has to do into a half second.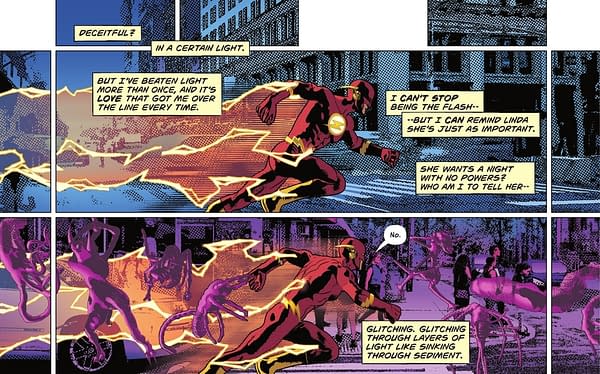 And failing. This is the modern marriage, expectations for self-fulfilment raised but then dashed by a world's reluctance to keep pace, with mundanity. With every issue, every feeling, every worry heightened by the superheroiness of it all.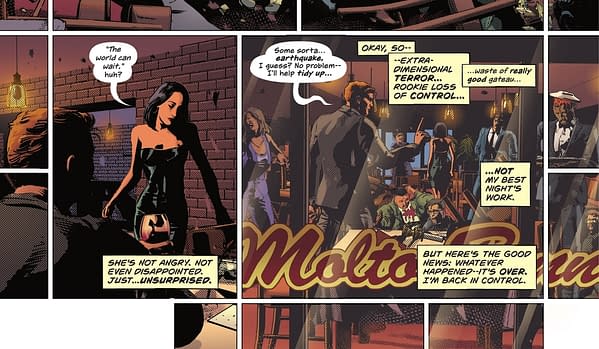 So for Linda, it's the pressures of a being new Mum, coupled with giving up work to be a full-time mother to three children – four if you count Wally. But because this is a superhero comic, the allegories are stretched, with all the kids having super speed, and Linda not able to go anywhere or do anything – coupled with the fact that, while pregnant, she was a superspeedster as well, and has now had to give all of this up as well. While for Wally, it's the pressures of the world on his shoulders, racing, racing, racing to be everything to everyone. It may be a dream for some…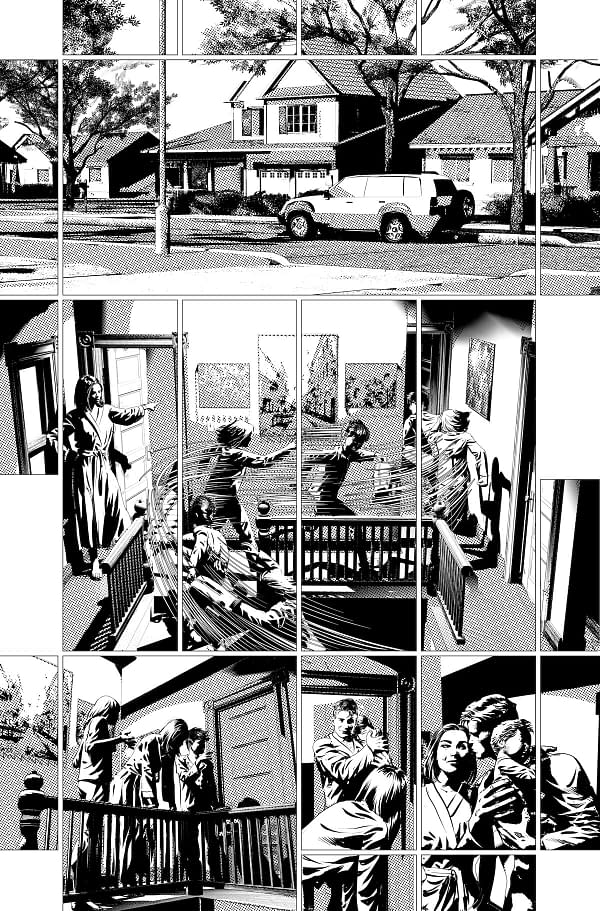 But for Linda and for Wally, it's a nightmare. This is a cosmic horror, rooted in mundanity. And while in Flash #800, we get a brief glimpse of classic Flash villain who was given new life in Animal Man by Grant Morrison, Mirror Master, with a Glasgow accent to match…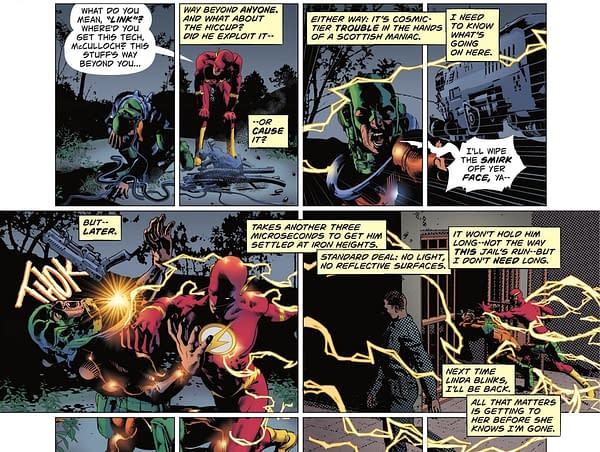 … there is something else behind the mirror. And it has tentacles.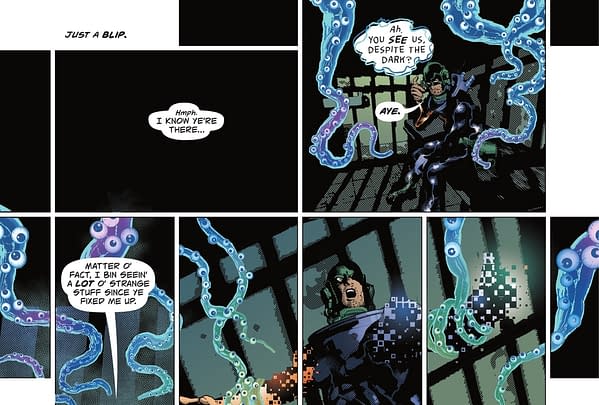 Turns out those tentacles from Dawn Of DC weren't just Bizarro after all.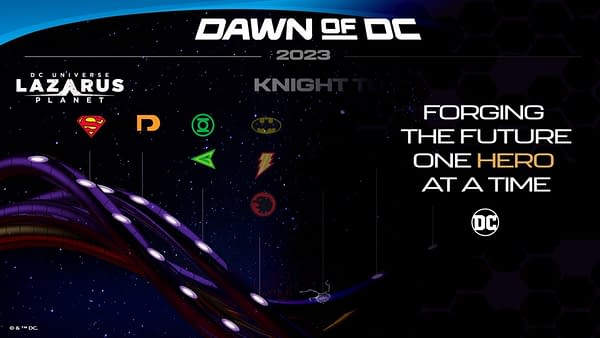 And now, for Wally West, The Speed Force hurts…
FLASH #1 CVR A MIKE DEODATO JR & TRISH MULVIHILL
(W) Si Spurrier (A) Mike Deodato Jr. (CA) Mike Deodato Jr, Trish Mulvihill
WALLY WEST RACES TOWARD THE FUTURE WITH ALL-STAR NEW CREATIVE TEAM SI SPURRIER AND MIKE DEODATO JR.! Wally West has never been quicker, more fulfilled, more heroic. His loving family is around him. And yet something is off. Very off. His evolving understanding of his powers has opened Wally to new avenues of sci-fi adventure and attuned his senses to strange new ideas. Something whispers from the dark vibrations beyond the Speed Force, and as Wally experiments with creative new approaches to his powers he encounters new realms, mysterious allies, and mind-shattering terrors. A new era for the Scarlet Speedster begins now from the team of Si Spurrier (Coda, Damn Them All) and Mike Deodato Jr. (Avengers). Retail: $4.99 In-Store Date: 9/26/2023

FLASH #2 CVR A MIKE DEODATO JR & TRISH MULVIHILL
(W) Si Spurrier (A) Mike Deodato Jr. (CA) Mike Deodato Jr, Trish Mulvihill
As Wally West faces massively powered-up old foes as well as a new, mysterious being, he encounters a group of alien explorers who are very interested in Wally's powers (which continue to glitch). Also, something seems to be literally bubbling up in Keystone City, as the new era for the Scarlet Speedster continues! New Character Debut: THE STILLNESS! Retail: $3.99 In-Store Date: 10/24/2023
---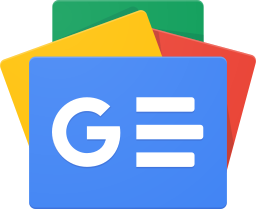 Stay up-to-date and support the site by following Bleeding Cool on Google News today!