Posted in: Games, Mobile Games, Square Enix | Tagged: Mobile, Square Enix
---
Square Enix dropped not one, not two, not five, but seven different updates for various mobile games over the month of August.
---
Square Enix decided to do multiple updates this week to several titles, all of them being mobile games with different events and upgrades. Rather than going one by one, the company basically sent out a giant list telling everyone what's been added for the rest of August. We got the full rundown below as the content for all of these is now live.
FINAL FANTASY VII EVER CRISIS
Players eager for the release of the upcoming mobile RPG Final Fantasy VII Ever Crisis don't have much longer to wait, as the title will be released on Android and iOS devices on September 7.
Additionally, Square Enix is thrilled to share that the highly anticipated title has passed 1 million pre-registered users. To commemorate this milestone, a 5-Star Wpn. Draw Ticket will be gifted to all players when service begins, alongside other rewards for previous milestones including Draw Tickets, Blue Crystals, and a Jumpstart Item Set. Additional rewards will unlock upon reaching 1.2M and 1.5M pre-registrations.
OCTOPATH TRAVELER: Champions of the Continent
On August 30, Octopath Traveler: Champions of the Continent players can take part in "Bestower of All: Chapter 3" where Bargello and the Ringbearer come face to face with the fallen Sonia, and a new threat appears in Castle Edoras.
Throughout the month, new EX characters make an appearance in the game, including Sofia (EX Apothecary job version) and Fiore (EX Dancer job version). Discover their origins in new Memoirs and take advantage of their powerful battle and support skills.
DISSIDIA FINAL FANTASY OPERA OMNIA
For a limited time, Final Fantasy VII's fiery Turk Reno and beloved party member Vincent Valentine are featured in Dissidia Final Fantasy Opera Omnia with new chances to draw some of their iconic weapons until September 4. Reno's BT, FR, LD and EX weapons, alongside Vincent's FR weapon, are featured.
DRAGON QUEST TACT
The exciting new original event  "Cherry Blossom Gourmet Travelog Turn flowers into dumplings!" is now underway in Dragon Quest Tact. Until September 7, players can clear event quests to obtain the event-limited character Crème Caraslime as well as Cherry Slime and the S-Rank equipment War Goddess Whistle.
Taking place now, players can join in celebrating Dragon Quest Tact's 2.5-year anniversary, with in-game festivities lasting until October 18. By logging in during the campaign period, players can earn vouchers to take part in an SP Scout featuring A- and S-Rank characters from throughout the game's service, plus score one guaranteed S-Rank character.
FINAL FANTASY BRAVE EXVIUS
Starting August 17, new Neo Vision Units from Final Fantasy XIII, Wondrous Flash Lightning and Challenger of Fate Hope, make their way to Final Fantasy Brave Exvius alongside the Savior of Souls Lightning NV unit which can be obtained as a login bonus.
By awakening Wondrous Flash Lightning (NV) to EX+3, players can obtain the Vision Card "Crashing the Party." If players awaken Challenger of Fate Hope (NV) to EX+1 and EX+3, they can obtain "Battling a Behemoth King" as an awakening reward.
Players can take part in the new Final Fantasy XIII-inspired event "Cast from Paradise," which awards event currency used to purchase limited-time in-game items such as Hero's Amulet (FFXIII), Saint's Amulet (FFXIII), Blessed Talisman (FFXIII), Genji Glove (FFXIII) and the recipes are required to upgrade these equipment.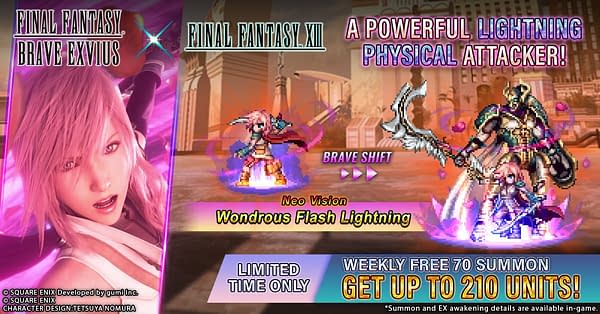 WAR OF THE VISIONS: FINAL FANTASY BRAVE EXVIUS
First-time players to War Of The Visions: Final Fantasy Brave Exvius can choose from among several Ultra Rare units, pre-strengthened to Lvl. 120, to start their adventure. This limited-time summon must be made within seven days of creating the new account. Starting August 16, players can also obtain Jayden the Celebrated to add a powerful new ally to their party.
Road to the Worldwide Version Campaign: From August 9th until September 12th, there will be a login bonus for players to get up to 7,000 free visiore if they login for 28 days. Players must login for 28 days out of the 35 days of the login bonus period to qualify for all the rewards.
War Of The Visions: Final Fantasy Brave Exvius PVP Championship Tournament Wezette Cup airs tomorrow. Be sure to tune in to the War Of The Visions: Final Fantasy Brave Exvius PVP Championship Tournament Wezette Cup featuring contestants from North and South American regions live tomorrow, Saturday, August 19 at 4:00 PM (PDT) on the War Of The Visions: Final Fantasy Brave Exvius official YouTube Channel and the Square Enix Twitch channel.
Romancing SaGa Re;univerSe
Romancing SaGa 3 TC/KO Game Release Anniversary Celebrations open in August with several events, the debut of new Styles for beloved Romancing SaGa 3 characters, and bountiful Jewels along with upgrade materials.
Pick up new Styles for Ellen, Undine, Volcano, Muse, Charl, and Dream Eater in Romancing Festival until September 2nd, and complete quests in the "Mages of Mahzoz" event to develop Styles into powerful combatants.
---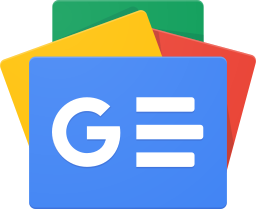 Stay up-to-date and support the site by following Bleeding Cool on Google News today!