Editor's Note: The following contains spoilers for the Riverdale Season 7 Finale
The Big Picture
Tabitha Tate is drastically underutilized in the final season of Riverdale, with only four appearances and minimal character development.
Despite being a prominent player in previous seasons, Tabitha is reduced to a plot device and supporting figure, with her storylines and relationships neglected.
Tabitha receives an unsatisfying ending, with her storyline hastily wrapped up in the penultimate episode and minimal acknowledgment of her contributions to the show.
Riverdale is finally over, and its final season certainly didn't disappoint when it came to delivering the specific brand of campy, bizarre entertainment that the show has become known for. This was perhaps Riverdale's most outlandish season yet, and for the series that brought us organ-harvesting cults, serial killer genes, and Archie Andrews (KJ Apa) fighting a bear, that is truly saying something. Among the absurdity, most of the gang — from the core four to Cheryl (Madelaine Petsch), Toni (Vanessa Morgan), Reggie (Charles Melton), Kevin (Casey Cott), and even Ethel (Shannon Purser) — all had shining moments in Riverdale's swan song, but one character was done a major disservice. Tabitha Tate (Erinn Westbrook), who had slotted in seamlessly as a main character back in Season 5, is almost nowhere to be found in the show's last 20 episodes, despite the season's poster positioning her as a prominent player.
Tabitha only makes four appearances in the series' final season, having been entirely relegated to a supporting figure and plot device. The conclusion to her character arc is also underwhelming, and she doesn't even feature in the show's last-ever installment. While we don't know if this was the show's decision or whether actress Erinn Westbrook asked for reduced screen time, Riverdale was all the worst for it, and Tabitha deserved a much more fulfilling ending.
Tabitha Is Reduced to a Plot Device in 'Riverdale' Season 7
In Season 6 of Riverdale, Tabitha makes the casual discovery that she both has time-traveling abilities and is the town of Riverdale's guardian angel. When evil sorcerer Percival Pickens (Chris O'Shea) ensures that Bailey's Comet is set to destroy Riverdale, Tabitha's only way to save everyone is to send them back to the 1950s, regressed into their teenage selves and with their memories wiped. In Season 7, Tabitha largely functions off-screen in order to try and restore their memories and return them to their modern-day timeline. As Angel Tabitha, she only appears in two episodes — the premiere and penultimate outing — and all of her hard work is conducted offscreen. Ultimately, she fixes the gang's amnesia, but they're forced to live out the rest of their lives in the past.
There's another version of Tabitha seen in Season 7 — her separate counterpart who lives in the 1950s. Only present for three episodes, she primarily serves to help push forward Riverdale's civil rights plot, like when the show tackles the murder of Emmett Till in Episode 1, and later establishes the literary society Black Athena for Black students. Aside from a brief investigative stint with Jughead (Cole Sprouse), she is given little else to do, when she had formerly been at the heart of the action and drama in Seasons 5 and 6. What makes this extra disappointing is the fact that the show had previously been called out on its treatment of Black characters, and vowed to do better by them prior to introducing Tabitha in 2021.
RELATED: 'Riverdale' Should Have Ended After This Season
Season 7 Ignores Tabitha's Previous Development and Relationships
While Tabitha is critical to the overall narrative of Riverdale's final season, she receives practically no character development of her own, acting as merely a supporting role in everyone else's storylines. Her ambitions to expand Pop's Chock'Lit Shoppe are put on the back burner, and her relationship with Jughead is neglected as a consequence of her absence. Her previously established friendships with characters like Toni and Betty (Lili Reinhart) are also virtually erased. It's as if the Riverdale showrunners assumed that fans didn't really care about Tabitha's character, when in reality, she was a highlight of later seasons, and her introduction in Season 5 felt like a breath of fresh air for the show.
Tabitha was consistently one of the most likable characters on Riverdale, always feeling like a grounded presence amidst everyone else's ridiculousness. She was kind, driven, loyal, and always one of the most reasonable people in the room. Season 7 was the perfect opportunity to explore her character further, and it's a shame that Riverdale didn't take it, instead choosing to rehash the same romances and love triangles as it did in previous seasons.
Tabitha Deserved a Better Ending on 'Riverdale' Than What She Got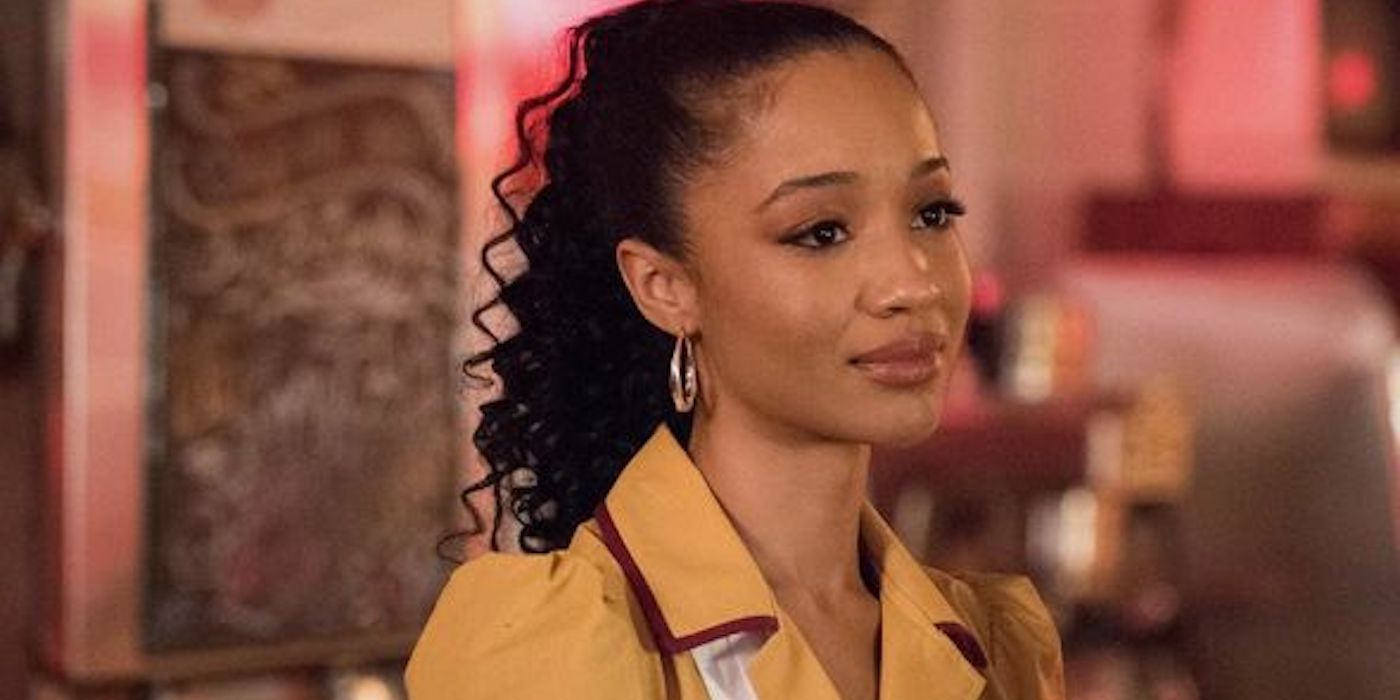 After doing her dirty all season, the least Riverdale could've done was give Tabitha a satisfying departure, but she doesn't even get to be in the series' final episode. Her storyline is hastily wrapped up in the show's penultimate episode, "The Golden Age of Television," when Angel Tabitha reinstates the memories of Archie, Veronica (Camila Mendes), and co, before seemingly ceasing to exist after a quick farewell kiss with Jughead. 50s Tabitha is still out there, but never to be seen again — not even in the series' Titanic-esque final scene, in which Betty dies and returns to Pop's diner in the afterlife, where the rest of the gang are gathered.
In the end, Tabitha doesn't get enough credit for what she did for Riverdale, a town that she was new to and yet ended up sacrificing everything for. She was the whole reason why everyone was able to survive the events of Season 6 and live with the happy memories of their now non-existent 21st-century lives. After merging the timelines, Tabitha gives up her personal and professional dreams of being with Jughead and franchising Pop's, scarcely receiving a thank you in return. Characters barely mention her in the finale, even though she made their happy endings possible.
Riverdale has undoubtedly run its course, and we've had our fill of most of the characters by now, but Tabitha still feels imbued with untapped potential. If the creators ever feel like dipping their toes into the world of Riverdale again, she feels like an obvious choice for a spin-off. In many ways, the series finale of Riverdale was a perfect tribute to its own delicious nonsense, right down to the moment where it gave us one final plot twist in the shape of Archie, Betty, Veronica, and Jughead's four-way relationship. We came to enjoy the show's unpredictable shenanigans over the years, but Tabitha getting shafted last minute was one we definitely could've done without.