Posted in: Comics, Comics Publishers, Current News, Oni Press | Tagged: Faceless and the family, JeyOdin, jordan thomas, Marc Ellerby, rick and morty, shaky kane
---
He's Mr Meeseeks, look at him. Except he is now Meeseeks P.I. in a new Rick And Morty series from Oni Press in their November 2023 solicits
---
He's Mr Meeseeks, look at him. Except he is now Meeseeks P.I. in a new Rick And Morty series by Fred C Stresing, from Oni Press in their November 2023 solicits as well as the Rick And Marty Manga: Morty Get In The Robot by Alissa M. Sallah and JeyOdin and the continuing Rick And Morty series by Alex Firer and Marc Ellerby.
Bleeding Cool previously announced that Oni Press had scored an exclusive publishing deal for Matt Lesniewski's Faceless & The Family, which the publisher is calling "a new level of artistic accomplishment and virtuosity from one of the one of the industry's most celebrated new artistic talents."Remastering Matt Lesniewski's Zoop-funded graphic novel is a new single-issue format (with a double-sized, ad-free 48-page #1 issue)" Oni is positioning Lesniewski's visually masterful "saga of friendship, redemption, and adventure on a harsh and unforgiving foreign world" as "a monumental evolution in Lesniewski's considerable powers as a storyteller and cartoonist." As well as the Born Driven graphic novel, more Man from Maybe, a Jonna and the Unpossible Monsters Deluxe Edition, and collections of Lamentation and Frankie Comics all in Oni Press' November 2023 solicits and solicitations below.
RICK AND MORTY: MEESEEKS, P.I. #1 (OF 4)
WRITTEN & ART BY FRED C. STRESING
COVER A BY FRED C. STRESING & MEG CASEY
MANGA VARIANT BY MARC ELLERBY
HOMAGE VARIANT (1:10) BY TONY GREGORI
FROM THE MIND OF FRED C. STRESING (RICK AND MORTY, INVADER ZIM) COMES A MEDIUM-TO-HARD-BOILED RICK AND MORTY MYSTERY IN AN ALL-NEW FOUR-ISSUE LIMITED SERIES!
The remote to the interdimensional cable box has gone missing! Desperate to find it before Rick can berate him, Jerry enlists the help of Meeseeks, P.I., and the two set off to retrieve the remote, unraveling a massive interdimensional cable conspiracy hidden right underneath their noses!
ON SALE NOVEMBER 29TH, 2023 | $4.99 | 32 pgs. | FC
IOD: 9/28/2023
FOC: 11/06/2023
Faceless and the Family #1 (of 4)
WRITTEN BY MATT LESNIEWSKI
ART BY MATT LESNIEWSKI
COVER A MATT LESNIEWSKI WITH DAVE STEWART
COVER B JUAN GEDEON
COVER C DUSTIN WEAVER
SKETCHBOOK VARIANT (1:10) BY MATT LESNIEWSKI
FULL ART VARIANT (1:15) BY JUAN GEDEON
FULL ART VARIANT (1:20) BY DUSTIN WEAVER
B&W VARIANT (1:30) BY MATT LESNIEWSKI
From the magnificently distorted imagination of Eisner Award-nominated cartoonist Matt Lesniewski (Mind Mgmt Bootleg, Crimson Flower, The Freak) comes a new milestone in comic book storytelling that must be seen to be believed: Faceless and the Family!
On the broken and warped world known as the Hand Planet, the wanderer simply called Faceless ekes out existence on the margins to escape the shame that cost him his name and his identity. Exiled for his crimes, Faceless now calls the wastelands his home—until the good fortune of fate delivers him a mismatched band of fellow travelers who will soon become family . . . if they can survive a suicidal mission into the Hand Planet's class-segregated Finger Cities to restore what lies beneath Faceless's helmet and, with it, his hope in humanity.
ON SALE NOVEMBER 1ST, 2023 | $7.99 | 48 pgs. | B&W
IOD: 9/28/2023
FOC: 10/9/2023
RICK AND MORTY: THE MANGA VOL 1 GET IN THE ROBOT, MORTY!
WRITTEN BY ALISSA M. SALLAH
ARTIST & COVER BY JEYODIN
RICK AND MORTY'S FIRST MANGA-INSPIRED MISSION HAS IT ALL: QUESTIONABLE SCIENTIFIC PROTOCOLS! STYLISH HAIRCUTS! BATTLE MECHS! SPEEDLINES!
Rick and Morty face a foe unlike any they've seen before. Well, it's basically Jerry, but he's huge, fast, vicious, and . . . naked? Rick has the perfect solution: a giant mech fighting robot, perfectly designed and calibrated to take on the Jiant horde—but it needs a puny, socially isolated, 14-year-old pilot. Oh, we've got one!
Spawned from the anime-addled minds of writer Alissa M. Sallah (Weaboo) and artist JeyOdin (Hammer), Rick and Morty: The Manga Vol. 1: Get in the Robot, Morty! is the first in a new series
of manga-styled Rick and Morty adventures and essential reading for longtime readers and manga mega-fans alike . . . if they can handle the multiversal thrill ride!
ON SALE NOVEMBER 1ST, 2023 | $19.99 | 184 pgs. | B&W
IOD: 9/28/2023
FOC: 10/09/2023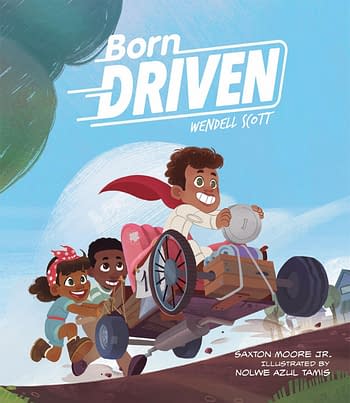 BORN DRIVEN
WRITTEN BY SAXTON MOORE JR.
ART & COVER BY NOLWE AZUL TAMIS
Based on a true story about Wendell Scott, the first African American NASCAR driver!
Like many other kids, Wendell Scott had a big dream: to become a race car driver. He loved to race anything and everything! Although he faced many difficulties as an African American boy in the South, Wendell had the willpower to overcome these obstacles. Join Wendell Scott for the time he challenged himself to compete in his town's soapbox derby.
CREATED IN COLLABORATION WITH THE WENDELL SCOTT FOUNDATION, BORN DRIVEN FEATURES A FULL PAGE OF HISTORICAL FACTS ABOUT THE REAL-LIFE EXPLOITS OF HEROIC NASCAR ICON WENDELL SCOTT.
ON SALE NOVEMBER 29TH, 2023 | $15.99 | 40 pgs. | FC
IOD: 9/28/2023
FOC: 11/6/2023
THE MAN FROM MAYBE #2 (of 3)
WRITTEN BY JORDAN THOMAS
ART BY SHAKY KANE
COVER A BY SHAKY KANE
COVER B BY MARIA LLOVET
CHARACTER DESIGN VARIANT (1:10) BY SHAKY KANE
FULL ART VARIANT (1:15) BY MARIA LLOVET
BANG BANG! Here comes an oil-slick sundae of postmodern, postapocalyptic action from rising star Jordan Thomas (Weird Work, XINO) and the infamous Shaky Kane (Bulletproof Coffin, The Beef)!
The hard, badlands of the future are filled with danger on the best of days . . . but how can even the toughest mutant rustlers compare to the terror of alien astronauts hopped up on a trippy, brain-altering substance that has traveled billions of miles in search of a new host? The Man From Maybe is about to find out the hard way as he rides in search of revenge for his fallen comrades! Saving a barren dust bowl from the machinations of malevolent billionaire Harvard Denny is just the beginning of this strange, rough-riding trip into cosmic peril!
ON SALE NOVEMBER 15TH, 2023 | $4.99 | 32 pgs. | FC
IOD: 9/28/2023
FOC: 10/23/2023
RICK AND MORTY #11
WRITTEN BY ALEX FIRER
ART BY MARC ELLERBY
COVER A BY MARC ELLERBY
MANGA VARIANT BY FRED C. STRESING
VARIANT COVER (1:10) BY RYAN LEE
Our heroes and their foes have traveled through space and time, finally arriving at a distant planet on the edge of the universe. As Rick, Nunzumel, and the Goldenfolds fight over who can claim the planet and its abandoned space milkshake stand like a bunch of settlers, Morty and Noelle concoct a secret plan to leave those squares behind. But this long-dormant planet holds secrets of its own—slimy, stupid secrets!
ON SALE NOVEMBER 22ND, 2023 | $4.99 | 32 pgs. | FC
IOD: 9/28/2023
FOC: 10/30/2023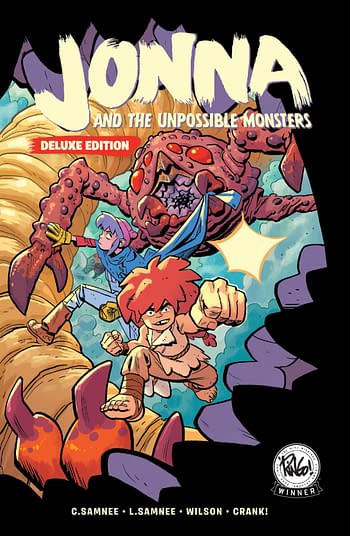 JONNA AND THE UNPOSSIBLE MONSTERS DELUXE EDITION
WRITTEN BY CHRIS SAMNEE & LAURA SAMNEE
ART & COVER BY CHRIS SAMNEE
Feel the force of the monster-punching hit—now collected in a single oversized, deluxe hardcover! Experience the new classic of high-powered fantasy adventure from Eisner Award winner Chris Samnee (Daredevil, Firepower) and Laura Samnee in all of its oversized glory!
While their differences sometimes feel bigger than they know how to handle, sisters Rainbow and Jonna set out across a broken land to reunite their family, following other survivors and word of mouth from one place to the next. From a cave of huddled refugees to a hidden city of humans that have built a home in the shattered remnants of a mighty redwood forest, things are rarely what they seem. One thing is for certain, it's a thrill ride from start to finish, and Rainbow and Jonna won't stop till they find their father
. . . and maybe even save the world!
Collecting Jonna and the Unpossible Monsters #1–12 by co-writer/artist Chris Samnee (Daredevil, Black Widow), co-writer Laura Samnee, colorist Matthew Wilson (Eternals), and letterer Crank in an oversized, all-in-one hardcover . . . plus never-before-seen sketches and an extensive "making of" interview!
"Jonna and the Unpossible Monsters reminds us WHAT COMIC ART IS CAPABLE OF." —ENTERTAINMENT WEEKLY
ON SALE NOVEMBER 1ST, 2023 | $44.99 | 344 pgs. | FC
IOD: 9/28/2023
FOC: 10/09/2023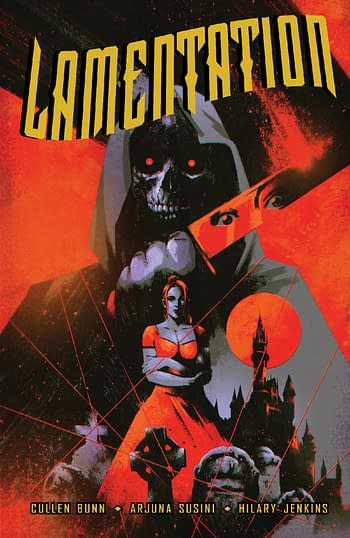 LAMENTATION
WRITTEN BY CULLEN BUNN
ART BY ARJUNA SUSINI
COVER BY MAAN HOUSE
From master storyteller Cullen Bunn (The Sixth Gun, Basilisk) and rising star Arjuna Susini (Made Men) comes a darkly glamorous tale of bone-splintering terror at the intersection of shadow and light . . . dream and nightmare . . .life and the grim specter of Death himself!
After weeks of grueling rehearsals, a new production is set to begin at the famed Requiem Theatre: Razide's Lament, three acts of gothic horror set inside a haunted castle with a story that some say is more than mere fantasy. Under the stern rule of a dedicated-but-temperamental director, the script seems to be ever-changing, and, more mysterious still, our lead actress has found herself cast in the role of a lifetime without so much as an audition. Her grand debut is fast approaching—and, with it, a barrage of razors in the night that will terrorize audiences and actors alike. There is no exit, no escape, and when the curtain finally rises, Razide himself will take center stage to cross the threshold into the unholy darkness that lies just beyond . . .
"This takes stage fright to A WHOLE 'NOTHER LEVEL . . ." —HORROR NEWS NETWORK
"Lamentation might just become THE SCARIEST SHOW IN TOWN." —COMICS BEAT
ON SALE NOVEMBER 8TH, 2023 | $19.99 | 144 pgs. | FC
IOD: 9/28/2023
FOC: 10/16/2023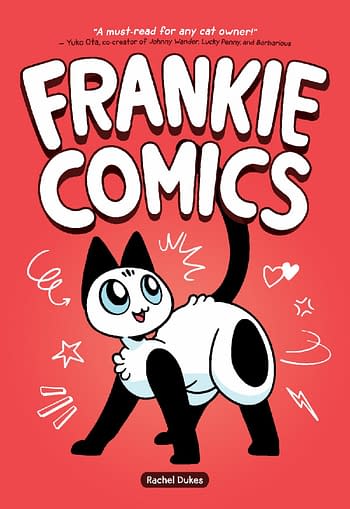 FRANKIE COMICS
WRITTEN & ART BY RACHEL DUKES
COVER BY RACHEL DUKES
Pet lovers of all ages will find something sweet in Frankie Comics!
From cartoonist Rachel Dukes (The Wizerd, Steven Universe, The Nib) comes a sweet, silly memoir of life with a cat—and all the humorous ways they challenge and delight us.
When they discover a kitten asleep in their doorway, real life couple Rachel and Mike immediately fall prey to her charms. Stealing snacks, making mischief, and taking snuggling very seriously, the blue point Siamese cat named Frankie proves again and again the wholesome joys of a feline companion.
"This ode to a beloved pet delightfully highlights the joys of living with a feline companion. FLUFFY FUN FOR CAT LOVERS." —KIRKUS REVIEWS
ON SALE NOVEMBER 15TH, 2023 | $12.99 | 144 pgs. | FC
IOD: 9/28/2023
FOC: 10/23/2023
---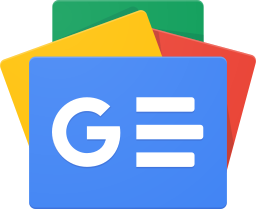 Stay up-to-date and support the site by following Bleeding Cool on Google News today!