The Big Picture
"Reservation Dogs' fifth episode takes an unexpected turn with the introduction of aliens, adding a sci-fi element to the '70s period genre."
Director Blackhorse Lowe successfully captured the essence of early '80s Spielberg films with practical effects and sound design in the UFO scene.
The episode explores Maximus' emotional journey while incorporating genre elements, and the younger cast seamlessly embodied their characters with minimal direction.
This interview contains spoilers for Season 3, Episode 5 of Reservation Dogs. The third and final season of the small miracle of television that is Reservation Dogs is currently in full swing with the last episodes we'll get of these characters proving to be just as sharply humorous and reflective as all that has preceded them. The season's fifth episode, "House Made of Bongs," is this in full motion as we took a trip back to see what the lives of some of the older characters we've come to know and love were like when they were younger. It also brought some unexpected visitors that touched down in the final moments of the episode. We spoke with the episode's director Blackhorse Lowe about bringing this striking moment to life, the way to authentically capture a drug trip, and how Reservation Dogs is similar to the series Outer Range. As a warning, this interview gets into major spoilers.
COLLIDER: I want to kind of launch into Episode 5 at the end while also talking about everything that leads up to it, but I have a lot of questions. When you were given this script, I imagine from Sterlin Harjo, saying there are aliens, sort of, at the end of this one, what was your first thought upon reading that?
BLACKHORSE LOWE: He never told me about the aliens. He told me it was a '70s episode, kind of in lines of Dazed and Confused, so that's what I went going into it expecting. Then I was completely thrown off when I got the third act, where all of a sudden, we have an alien interaction in a UFO and everything else. But for me, I got really excited because at first it was like, "Alright, I'm doing a '70s period genre," and it was just like, "Oh, that's gonna be so exciting, I'm gonna riff off [Steven] Spielberg and [John] Carpenter and everything." And then this alien element came in, and my brain just blew up again. So it was just like, "Hell yeah!" Because I'm always the guy they choose for genre stuff, so it was just nice to see a period piece combined with a sci-fi element. Especially with a lot of stories that I'm exploring on my own, it really kind of gave me the chance to play around with that genre.
The funniest thing that popped into my head, because Zahn McClarnon is also a key part of this series, was Fargo where there was the entire season of a period show, and then also aliens are part of it. How much of it, when the alien is there, did you capture in camera?
LOWE: We went as much in camera as possible, as many actual practical effects, so actually getting the ship up there, the smoke effects, and then just the visuals there. But a lot of that, too, was a lot of the sound design that we really try to go off of and really emulate a lot of the early '80s Spielberg movies, Close Encounters of the Third Kind, E.T. [The Extra Terrestrial], and giving that type of vibe. So, not so much about what you're seeing, but what you're feeling and your expectation of it, and then finally the reveal and kind of going through that whole feel. It was just fun to really dive into that genre and really kind of explore what that look was for Reservation Dogs because we see UFOs in other stuff, but like, what was the defining factor for being in Reservation Dogs? So it was fun really just developing that look and really kind of laying down that atmosphere.
Delivering the genre expectations, but also having to continue the throughline of Maximus' emotions through all of that, being this loner excluding himself from his friends and family or whatnot, and kind of going through his own emotional turmoil and then taking acid and then all of a sudden seeing an alien. It combined many different things that I really enjoy about cinema, but also about writing and directing on the show. One moment to the next, you never know where you're gonna end up at, so that's a great thing about the show. It always keeps you on your toes and always keeps you excited.
I was going to say that it ends up becoming very emotionally potent, specifically because of the swing of genre, but it's still grounded in only he is really experiencing this and feeling this, and it kind of furthers that isolation in a very tangible way. What were the conversations you were having, especially with the younger cast, in navigating that?
LOWE: The younger cast, like with Quannah Rose, who played Irene, and then Mato [Wayuhi], who played a younger version of Bucky, and then Shelby [Factor], who played a younger version of [Mabel] and then [Isaac Arellanes] who played Maximus—since it was kind of like a pilot episode, which I consider it because it's completely out of context from everything else, we really had to redefine the visuals and the style—I kind of feel like they saw what the other actors had done previously in the show. But up to that point, it was up to them to kind of really flesh out who these people were in the '70s. Also, the conversations with Sterlin, he's just a huge person of trust, so he's just like, "Whatever you make of it will be." But also, the writing is so solid, the characters are already there, so I really don't have to worry about it. It's just a matter of maintaining the emotion and making sure they get into the next scene, and everything's taken care of.
I think directors are often considered to be part of the visual style, which is very interesting, but you're also directing actors. You know what's coming and what it looks like in ways they might not. It's that relationship that I'm always interested in between actor and director, especially when it's such a character-driven show, even with all these genre elements.
LOWE: The great thing about these actors that were cast was that I really didn't have to have too long of conversations. They were just already the character. The previous conversations that Sterlin had with them was they had already set them up. So by the time I came in there, it was just imagining and exploring each of the scenes and the emotions there, and really trying to get to that, and at least find a good emotional arc for each of them and understanding that. But also having that connect to the bigger world of what's going on because the storyline going on here now is actually referencing the Rez Dogs in the present day with them all kind of going their separate ways, Lane [Factor] being like the Maximus version of the present day. So there's all these different parallels.
It was a matter of, as long as you're an avid Rez Dogs watcher, the actors got it, and they were all about it through the whole thing. Especially when it came to Nathan, who played young Brownie, Gary Farmer's character; he got his cadence, he got his rhythm down to a T in terms of how he acted. And especially with Quannah Rose, who played a young Irene, too. We looked at high school photos of actual Casey Camp[-Horinek] when she was in high school, and her and Quannah, they actually looked very much similar. So there were either the visual references or at least the emotional things that were all there and all those connecting factors. So when I came into the conversation with the actors, it was about either raising up the emotions, making it funnier, or just being a bit more relaxed with it. There was no real exploration, especially since we're working in TV; you're already behind schedule by the time you get on set. So it's just a matter of, "Just give me three variations of this performance, and let's just keep moving." If there was something more, we'll keep on exploring it. But going back to the writing, all of it's there. I really didn't have to answer too many questions if they came up, and if it did, it was there in the script, and we just kept going.
I had been reading an interview with another director on the show who said there isn't really a style bible that you all have, that there's a lot of freedom that you get as a director, obviously, within the show, but within this episode to really make it your own. I want to ask about the drug trip sequence because you've done a drug trip sequence on this show before. Obviously, that was accidental, this was an intentional drug trip sequence, but I was wondering how you go about doing that because there are comedy things that almost overplay it and make it way too exaggerated and kind of unrealistic. I'm not going to ask you if you've done drugs yourself, but what was the thought process in that visual encapsulation of that feeling?
LOWE: Again, Sterlin knowing his directors and his artists very well, he catered to my taste, which is The Holy Mountain, El Topo, [Alejandro] Jodorowsky movies, Enter the Void, Fear and Loathing in Las Vegas, all these great drug movies which I paid reference to. But also, I dabble a little bit too, so I knew exactly what the experience was like, to a certain degree, firsthand, so it was just a matter of embellishing it just a little bit just because it's TV and whatnot. The films I've done previously to coming into the TV world, I kind of played with the experimental visual grammar.
So in terms of when it came to the drug trip sequences, I was like, "Oh, this is beautiful." It's either a choice of, like, with the '70s stuff, with the experimental, we were really kind of paying reference to the films from the '70s. We'd think Easy Rider, Vanishing Point, Two-Lane Blacktop, really think about very organic editing techniques to make that kind of vibe feel where it's like cross-phase and the choice of lens is a bit soft. Finding that was just a matter of movie references, but also going off of my own experiences, like, what does it feel like and what will sell it to an audience? But then also, when it came to Big's episode, like Season 2 where we're dealing with fish-fucking and then him and Kirk [Fox] being on acid, this was just above and beyond what it needed to be. I needed to make it feel big, but also extremely small at the same time too.
I think the thing that sells those psychedelic moments is the underlying emotion because everyone is going through something. In Season 2 with Big, he was going through this loss of his friend and this guilt that he was going through. With this one, we have this kid who's feeling loneliness and kind of finds even more loneliness at the end with this alien. So it's like all these psychedelic moments, they're not just for fun, but they're actually emotionally driven, and they give you some sort of narrative context, but also, how does it affect the human mind, the soul and the spirit, and then how does it affect these characters and the whole of Reservation Dogs and all these individual characters and how they deal with each other? It shows the double side of it, too, the fun side, but also the process of letting go and finding your emotional core. That's the fun part about it. I get my cinema kicks with the visuals, but I also get my emotional kicks, more down home kicks, which is like, what does that actually mean, what's it feel like, and what is the reason for the psychedelic trip and why are these people going through it? Then they give it that context and give it that meaning, so that way, I do a better job of doing the visuals [and] directing the actors.
Because sometimes you show somebody smoking weed, and they're having that…I've never seen anyone do anything like that on weed. I've never seen anybody do anything like that on acid. Sometimes you really kind of have to bring down people's expectations of what this is gonna be and try to make it a bit more realistic, but also fantastical. It's a weird kind of tightrope where you have to make it both things. But I think that's why they've been successful so far. A lot of the times, I'm always approached, like, "You did the psychedelic episodes, I loved that," or, "It reminded me of my DMT trips." I'm just like, "Oh, great!"
You're talking about that kind of visual and emotional storytelling, in the car after that, they're coming down a bit, the lighting was something that really stood out to me. We would occasionally get some glimpses of people in the rest of the car, but it was almost like a spotlight on the driver, and I was wanting to ask both the technical question of how you went about planning that with your lighting team, but then also what you were hoping to capture emotionally with it as well?
LOWE: Well, I think we definitely captured emotion, which is kind of that post-partying out in the woods vibe where, especially after this huge emotional moment that he has with this cousin, he's just feeling the loneliness, feeling the anger, feeling the acid, but also having his friends be there just rambling. So I'm sure if you've ever partied in high school, you've had those feelings of driving your friends home and everyone's rambling, and you're just trying to stay awake on the road, so that was the feeling I was going for.
It was very much a conscious effort because I can write a story, but visuals, I feel like, are very strong. If I could make a movie completely visually with no words and an audience can get it, then that's pure cinema for me. So, when I was talking with Mark Schwartzbard, the DP, about that, we'd been talking a lot about these movies we've referenced already, Close Encounters, E.T., kind of this bright light, this ethereal effect, but also using all these old anamorphic lenses, so we keep you within that '70s world but also within the drug concept of it too. So they all played off one another beautifully. Those conversations, but also, they were very brief because I think we only had, like, three hours to shoot that whole scene before we got to the alien scene, which we shot in an hour. Everything was very much timed, and very well thought out beforehand, but when we got into it, we were just rolling and just getting what we can at the time. But a lot of time and care was put into the preplan before we went and shot.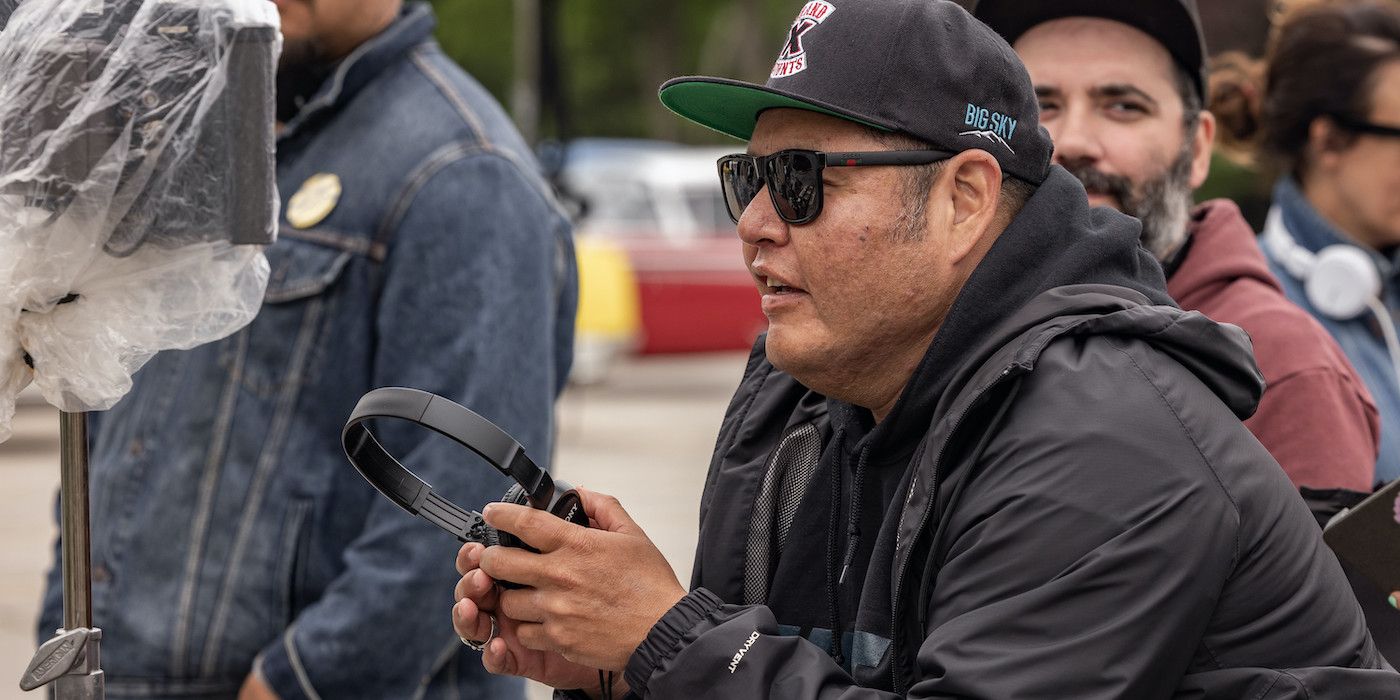 I want to ask one question about Outer Range, which I know you probably can't talk a lot about, but I was wondering, did you do this before then working on that, and was there any moment where you were like, "Oh, there's kind of a similar conversation happening about these fantastical sci-fi elements, but grounded in character and emotion and loneliness?" Which came first, and did you see any connection when you were working on them?
LOWE: I think there were definitely connection factors because of the Native narratives that I have associated with and what they give me, but also coming from the first two seasons of Rez Dogs and seeing what that was doing. Also, being familiar with Outer Range and their care and their storyline with all the emotions going on there with [Josh] Brolin and the family too. There was a lot there to explore. I did Outer Range beforehand, and then I went through those two episodes of Reservation Dogs and then had to go back to Outer Range immediately after to do pick-up scenes and a couple of the things that we missed.
I think in terms of the writing, the episode I did for that was written by Randy Redroad…and it was primarily focused on Tamara Podemski's character, which is the one Native character, so it was basically showcasing her and her story. Again, like this Episode 5 for Season 3 for Rez Dogs, it was like a complete reset from everything that had been previously established and rediscovering this whole new thing. So with that one, I was able to, again, be given free rein and just, "This won't fit into the rest of things, so go just be as crazy as you want and explore it." So it was nice to go from that type of energy where I have full support and trust from the showrunner, which is Charles Murray, and then go directly into Sterlin, who I've known forever, and he has that same trust and love for me. So he's just like, "Here's the characters in this story, just go with this."
But I think the one thing about that is the indigenous experience in both of those shows is one's in the past in the Western, but it's still the exact same elements of loneliness, as finding your connection, finding your family, reconnecting, letting go of guilt and kind of just becoming a full human being. When it comes over to Rez Dogs, it's the same thing but just within a different context of a small town, a community, a very specific community in Oklahoma. It's very much minute, and just the macro, it's so finite and beautiful, whereas this one is kind of expansive, Plan B, big Amazon show, but the emotions are still very small. So I think for me, coming and being a director, I'm able to jump from one thing to the other with ease just because I love jumping from genre to genre, discovering stories, and working with different actors. I find no trouble with it. If they throw me to a sci-fi and then to a porno the next day, I'm sure I'll be all right.
The final episodes of the final season of Reservation Dogs are now streaming on Hulu.