If you have been playing Destiny 2 long enough, then you know that Bungie never explains everything straightforwardly, as the developer always loves to keep some parts of the mechanics as mysteries to let players feel the joy of discovering them.
RELATED: Destiny 2 Season Of The Witch: How To Complete Savathun's Spire
The same goes for the new Deck of Whispers system in Season of the Witch, which is simply a new deck-building mechanic, granting players random buffs and perks based on the cards they have unlocked. So, if you need to know all about this new system, you are reading the right article.
What Are Opaque Cards?

If you have already finished the opening missions for Season of the Witch, then you know that you have received a bunch of Opaque Cards. These cards are the keys to unlocking the Deck of Whispers. Every Opaque Card is more like a sweepstakes ticket. In order to reveal what the card contains, you need to head to the HELM, enter the Athenaeum through the Hive portal, and interact with Lectern of Divination, which is a table right in front of the seasonal vendor, Ritual Table.
Here, you will see a large list of Opaque Cards, but your card will match only one of them. If you unlock the card by clicking on it, you will face three possible outcomes. The Opaque Card could turn into a Major Arcana or a Minor Arcana card. The third possibility is that the card turns into an item, which could be Exotic Engram, Enhancement Prism, or any other high-value item in the game.
What Are Major Arcana Cards?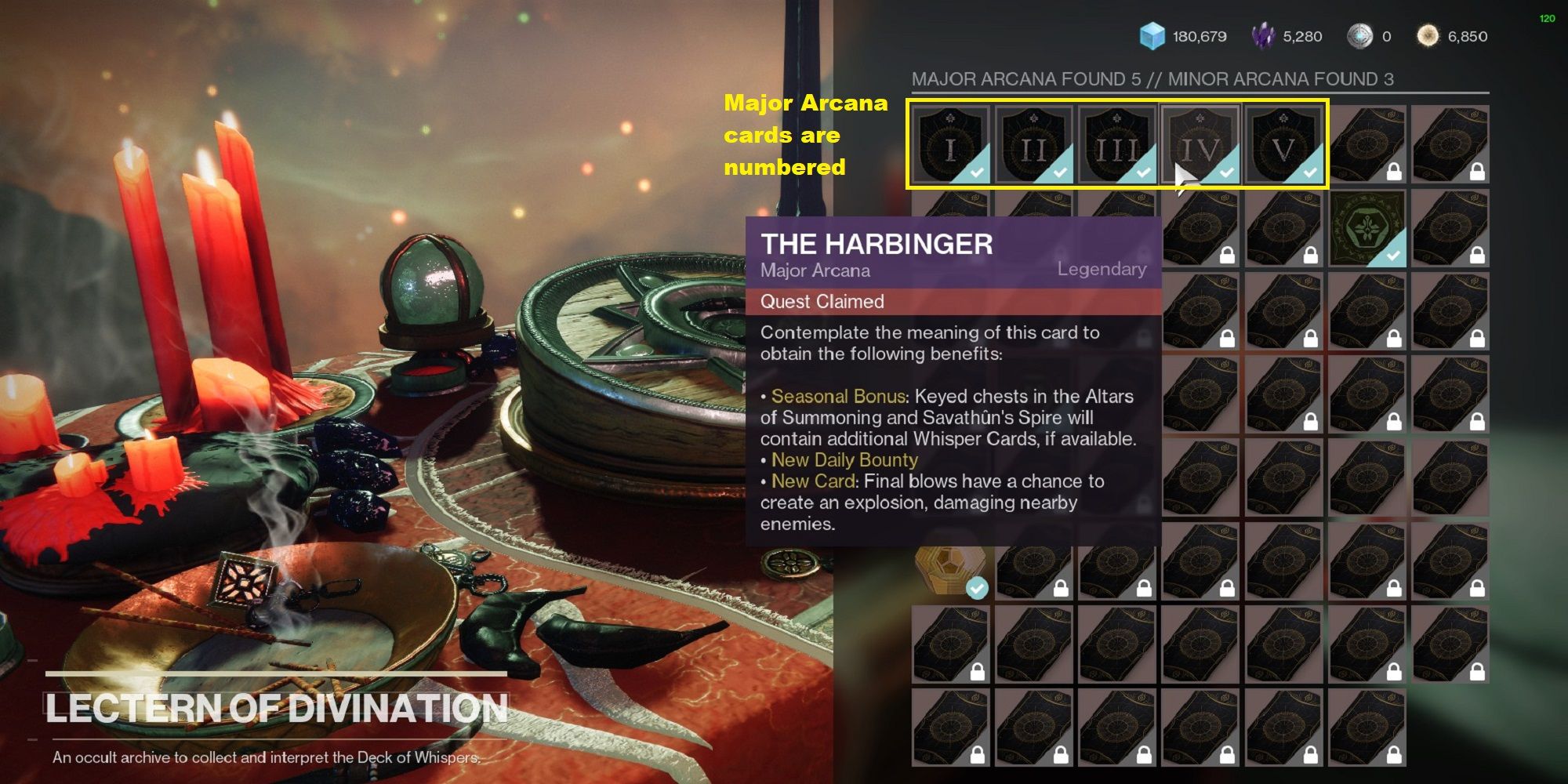 If your Opaque Card turns into a Major Arcana card, then you are one step closer to completing your Deck of Whispers. Major Arcana cards are marked with a number on them, but you cannot use them directly after unlocking them. Major Arcana cards need to be activated through their own unique quests.
Every Major Arcana card that you unlock and claim will turn into a quest in your Seasonal tab in Quests. If you go there, you can see what you are required to do to activate that certain Major Arcana. The mission could be about completing seasonal activities, collecting Insights, or defeating enemies with certain types of weapons. Once you complete the quest for a Major Arcana, you should return to Lectern of Divination, and that card will be activated.
Now, if you look around the circular hall in the Athenaeum, you will spot a green card floating in flames. This means you already have the first card of your deck.
If you activate five Major Arcana cards, your Deck of Whispers will be activated, and you can use it for seasonal activities.
RELATED: Destiny 2 Season Of The Witch: Savathun's Spire Secret Chest Locations
What Are Minor Arcana Cards?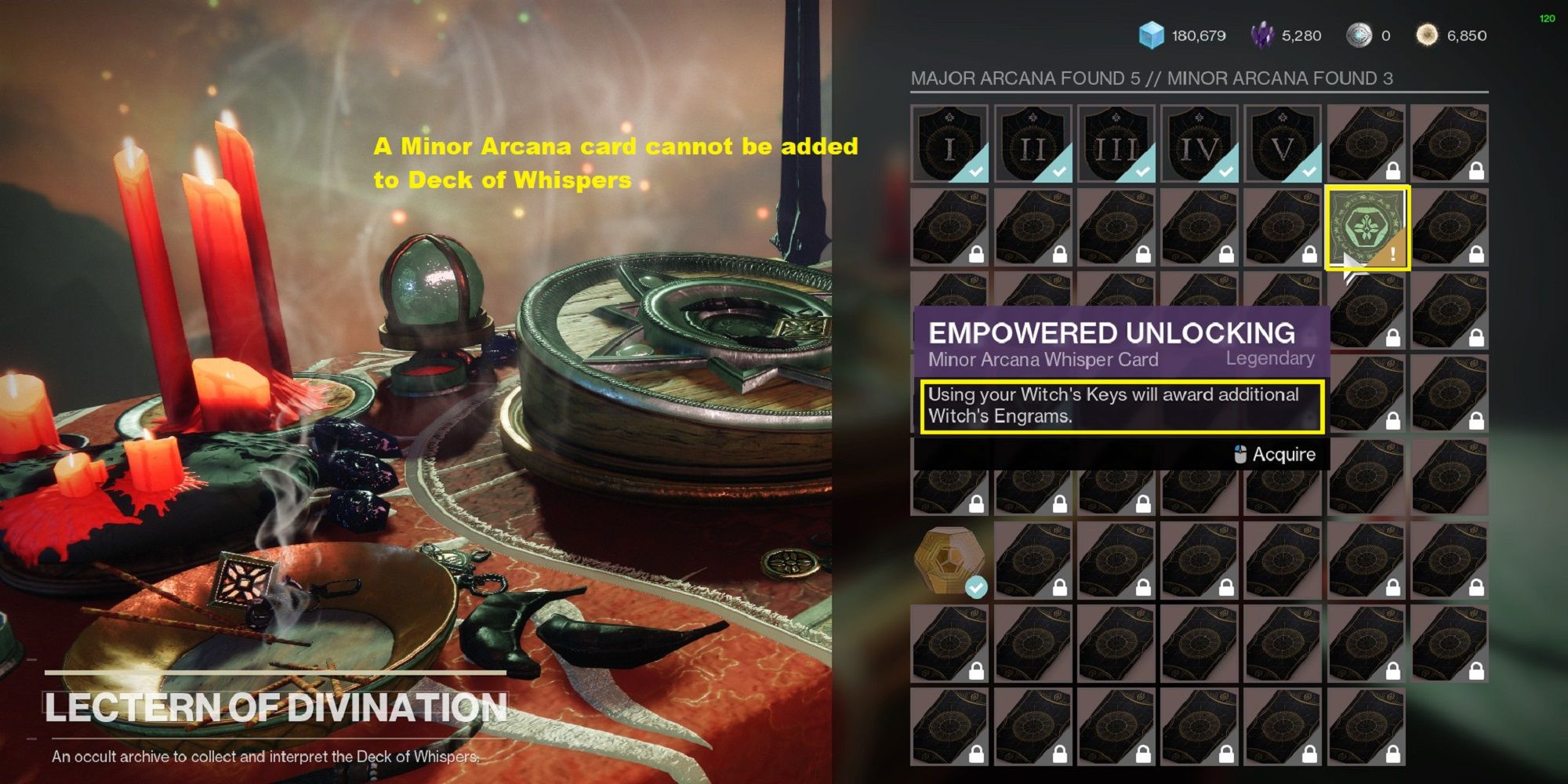 A Minor Arcana card is a one-time-use perk or ability. Minor Arcana Card cannot be implemented into Deck of Whispers. These cards usually give you a special opportunity to earn something rare. For example, there is a Minor Arcana that turns your next Focusing Weapon draft from Ritual Table into a red-border Deepsight weapon if possible. As you can see, this is not a permanent perk, and it can only be used once.
How To Get Opaque Cards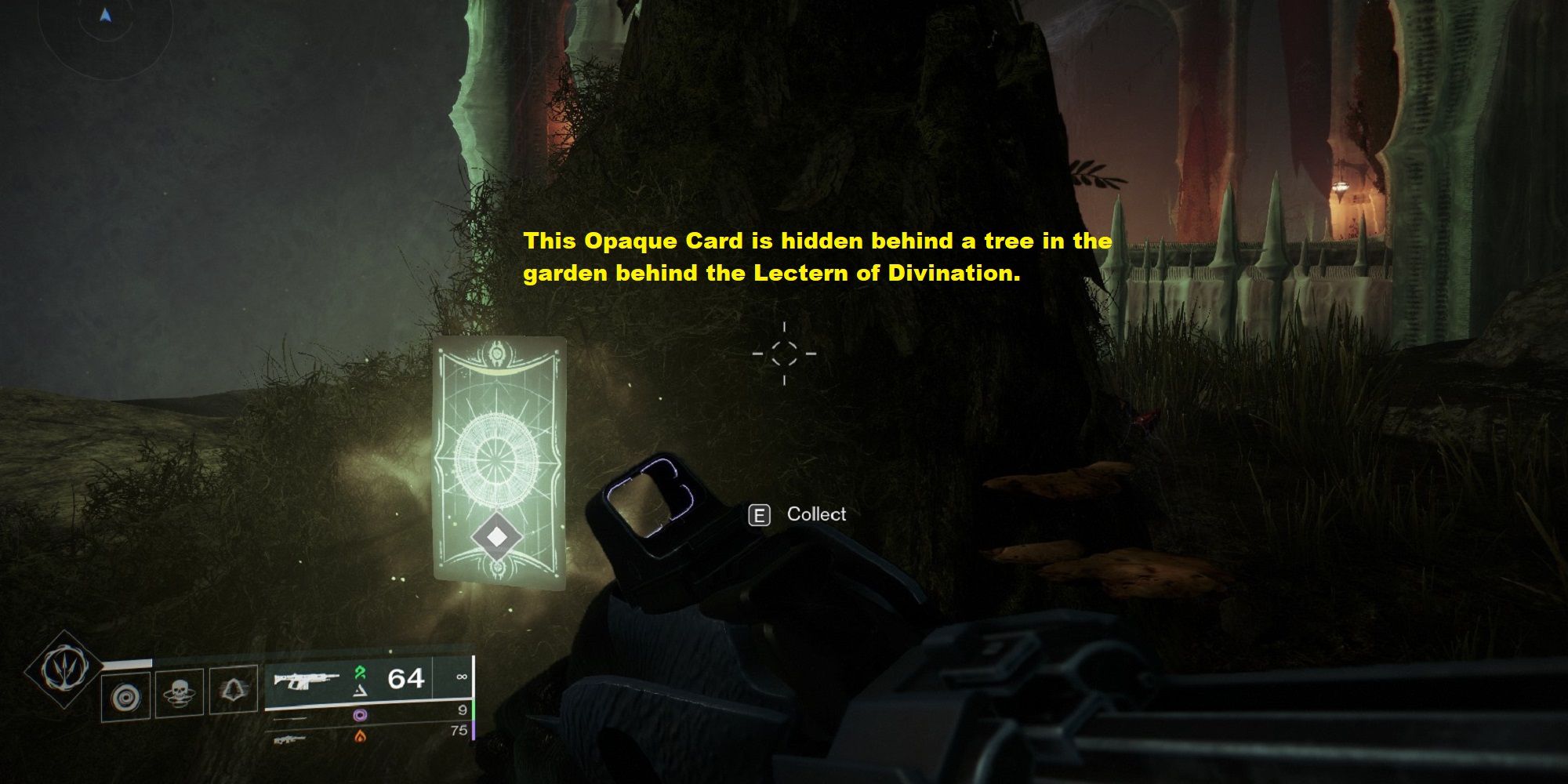 Opaque Cards are dropped by completing the main story quests of Season of the Witch as well as seasonal activities like Savathun's Spire and Altars of Summoning. Aside from that, you can also find Opaque Cards scattered around the seasonal locations.
For example, there is an Opaque Card behind a tree in the Athenaeum that you can collect for free. There are also some Opaque Cards located in tricky spots in Savathun's Spire and Altars of Summoning, but you can't collect them for now as they require Elemental Attunement. This attunement mechanic is yet to arrive in the game, and according to the leaks, it will arrive in the following weeks of Season of the Witch.
Making progress in the season vendor "Ritual Table" will also allow you to earn some Opaque Cards as part of your seasonal rewards.
What Is The Deck Of Whispers?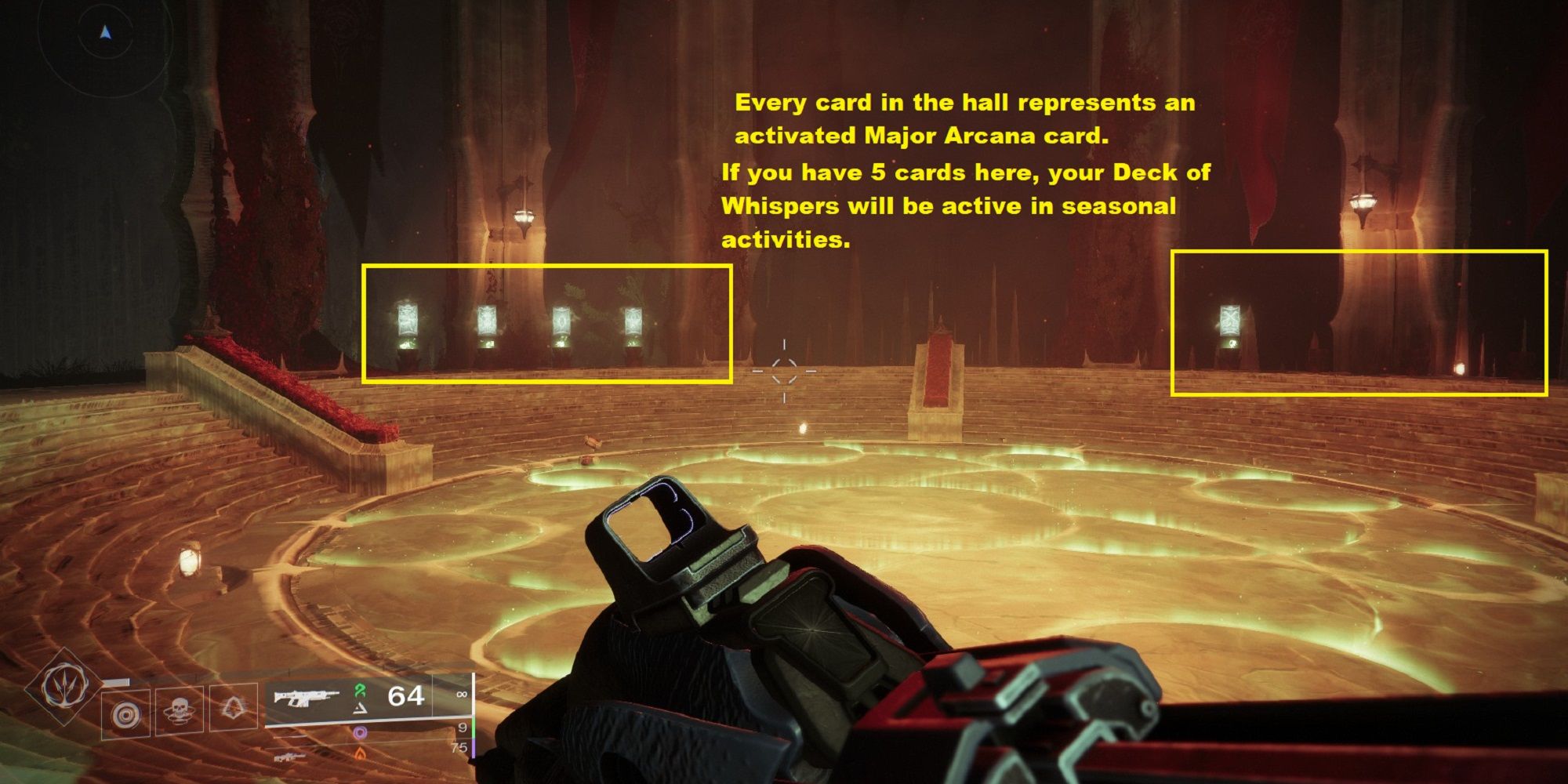 Deck of Whispers is a deck of cards that is visible in the Athenaeum's main hall. Of course, if you haven't activated any Major Arcana cards yet, you won't see any of them in your deck. But if you look around the circular hall, you will find 12 empty holders around it divided into three groups of four.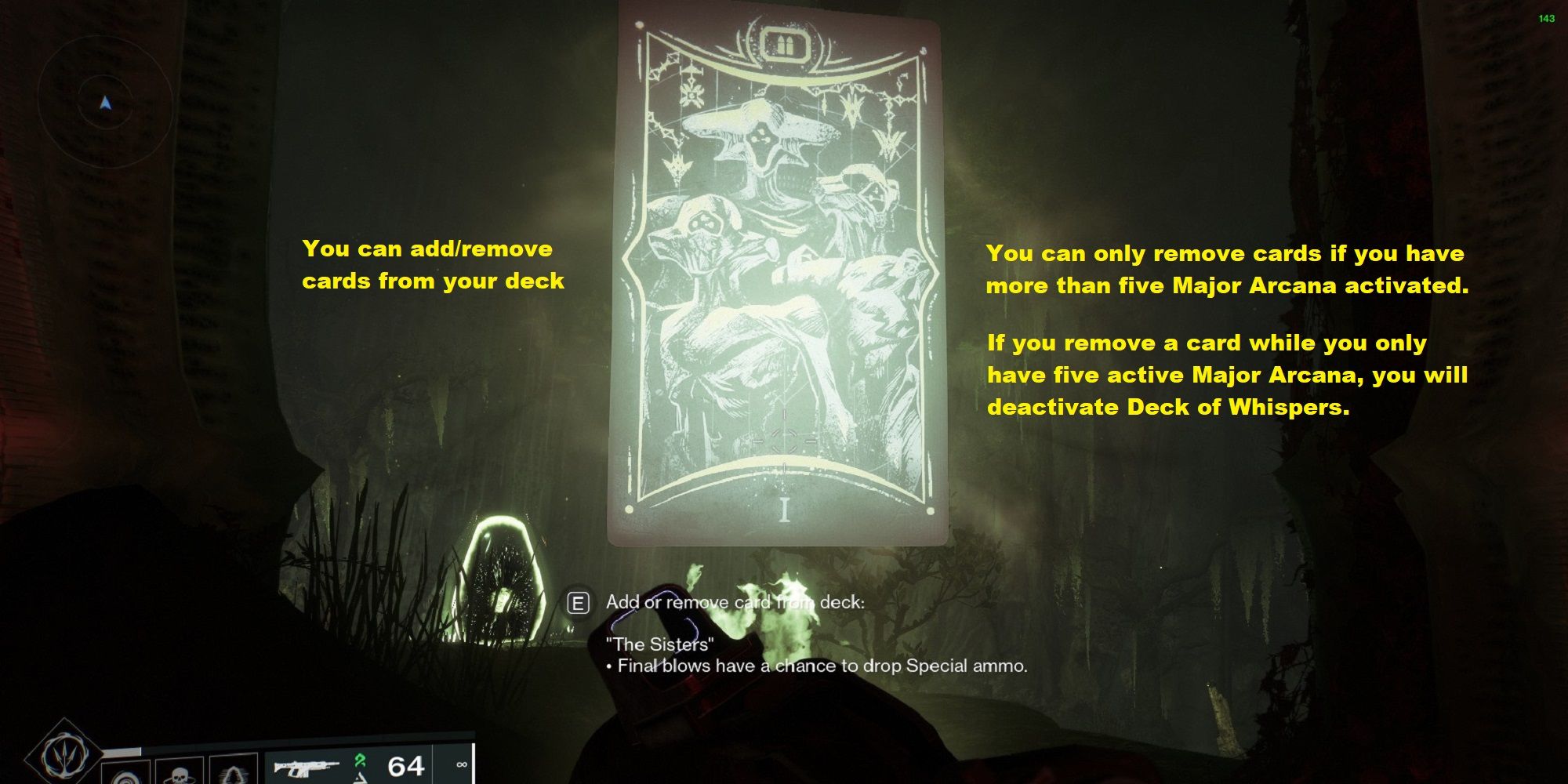 As mentioned earlier, activating Major Arcana cards fills in those holders, and there are apparently 12 unique Major Arcana cards for now. The least amount of Major Arcana cards required to activate Deck of Whispers is five. If you have more Major Arcana activated, you can deliberately move to their holder and remove them from the deck.
Once your Deck of Whispers is activated, each time that you begin a fight in a seasonal activity like Altars of Summoning, one of the cards in your deck will be randomly activated, and the corresponding buff will be applied to your character for the entirety of the battle.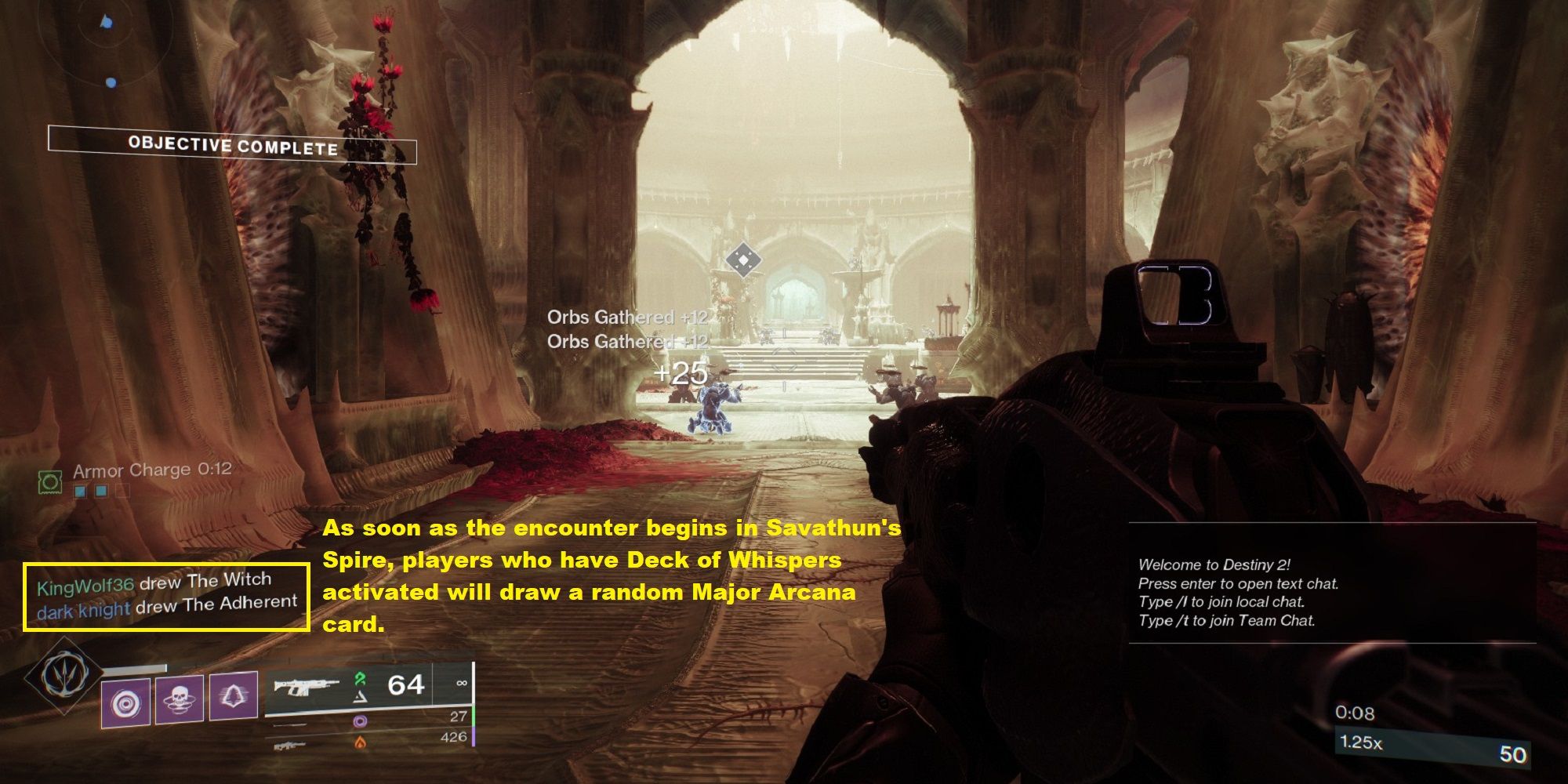 So, this is basically how you benefit from Deck of Whispers. Now, if you want to increase the chance of a certain card appearing in the fight, you need to limit your deck size to 5, but otherwise, you can have all 12 cards active in the deck.
NEXT: Destiny 2: Best Reveals From The Final Shape Showcase