The Big Picture
Suits is experiencing a surge in streaming viewership, showing that longer seasons and better compensation through residuals are warranted.
Fans should be aware that the ninth and final season of Suits is not available to watch on Netflix, but can be streamed on Prime Video and Peacock.
The last season delves into Harvey and Donna's relationship as they navigate struggles outside of work. Mike also returns for the final season, leading to a clash with Samantha and a plan to take down a new antagonist causing tension within the firm. The series concludes with various characters experiencing happy endings.
Acclaimed legal drama Suits is experiencing a surge in streaming viewing numbers, making a case for longer seasons to return and for a much-needed change in compensation through residuals. Suits is a very consistent drama that makes its characters clash at every opportunity it has, making it very engaging and bingeable. Still, there might be an issue if you're counting on Netflix to binge the series — the ninth and final season of Suits is not available to watch. Conversely, Prime Video only has that season available to stream, while Peacock has the whole series in its catalog. Here's a brief recap of Suits' last season, for those who don't mind reading instead of watching.
RELATED: This Scene Ruined the Best Character of 'Suits'
'Suits' Season 9 Finally Brings Donna And Harvey Together
Season 9 picks up immediately after Harvey's (Gabriel Macht) realization that the person he'd want to run and tell all the good and bad things that happen to him has always been there. Admitting his true feelings for Donna (Sarah Rafferty), they spend the night together. The next day, Louis (Rick Hoffman) cluelessly barges in, thinking they've been up all night thinking about what to do after Robert's (Wendell Pierce) sacrifice to save Harvey from losing his license. Initially, they try to keep their relationship secret, causing friction with Samantha and Louis. Fortunately, this doesn't last very long, as they're able to talk it out, for they realize what Harvey and Donna have is something meant to be.
Donna and Harvey's relationship gets to be fleshed out instead of being a "happily ever after." They struggle to come up with things to talk about that aren't work-related. Also, with Donna's father (Derek McGrath) knowing their background, he doesn't fully approve of their relationship. Still, they also go into known territories, as Donna helps Harvey let go of his last grudge with his mother (Brynn Thayer), giving him a painting she'd done in the past, and prompting him to get in touch with her. This happens just before she suffers a heart attack and dies. If Harvey is at peace with his mother, it's thanks to Donna.
The Final Season of 'Suits' Has Yet Another Antagonist
The New York bar puts pressure on Alex (Dulé Hill) to remove Robert's name from the wall. He even gets an offer to become managing partner, which he refuses. This leads to them assigning Faye Richardson (Denise Crosby) to oversee the firm. In the vein of Anita Gibbs (Leslie Hope) and Sean Cahill (Neil McDonough), Faye is fixated on making them face the consequences of their choices. She's a fierce woman who once even had her husband removed as partner and fired from another firm for doing something sketchy.
Faye puts everyone on edge, causing Louis to have erratic behavior, and then taking his place as managing partner. She hits Donna's ego by asking her to be her secretary, then puts pressure on their relationship asking one of them to give up their partner vote. In trying to take her down, Harvey and Louis learn she also crossed a line in her husband's case, but she was just trying to protect her daughter. Faye is not a monster but, in most cases, she values rules more than personal relationships.
Mike Returns for the Final Season of 'Suits'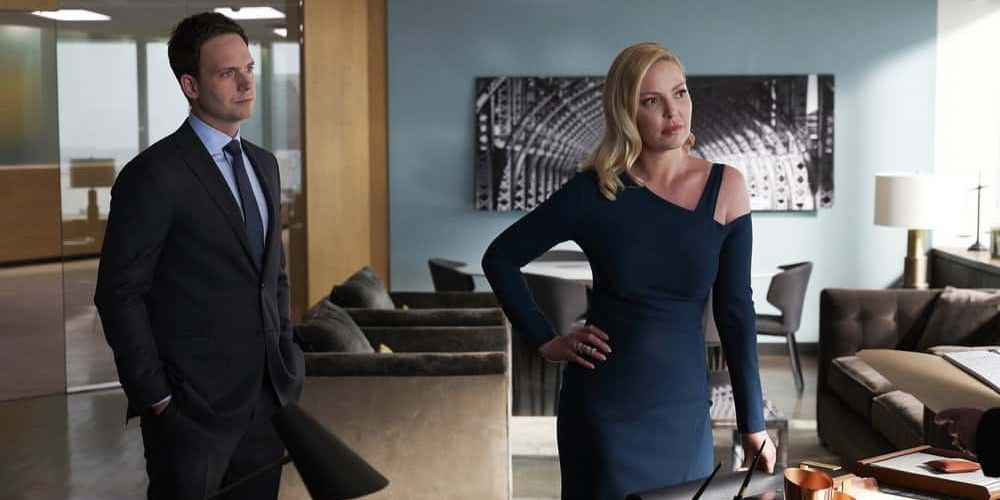 Being Season 9 the last season of the show, it's only natural for Mike (Patrick J. Adams) to return. But this isn't only a happy reunion, as he comes back by going against Harvey in an unethical work condition case. To make matters worse, the client Mike is going after is now being handled by Samantha. Their clash is one of the best interactions in the series, with Mike calling her Harvey's "second fiddle" and her calling him a "protégé." It ends badly, as Samantha's ruthlessness doesn't let her budge under Mike's pressure, and she ends up fabricating evidence to beat Mike. When Faye finds out, she fires her on the spot.
Samantha's firing prompts her to go through some rediscoveries, including her asking Harvey to go meet her birth parent. In this road trip, Samantha gets to understand Harvey's loyalty to Mike, which is very much reciprocated. She finally understands she's also part of this family whether she likes it or not, and they will continue having her back for as long as they can. Mike then shows up again when Harvey's mom dies. His unconditional support has always been a staple of Suits, and this allows them a tender moment before the last storm.
'Suits' Pits Family vs. Family in the Series Finale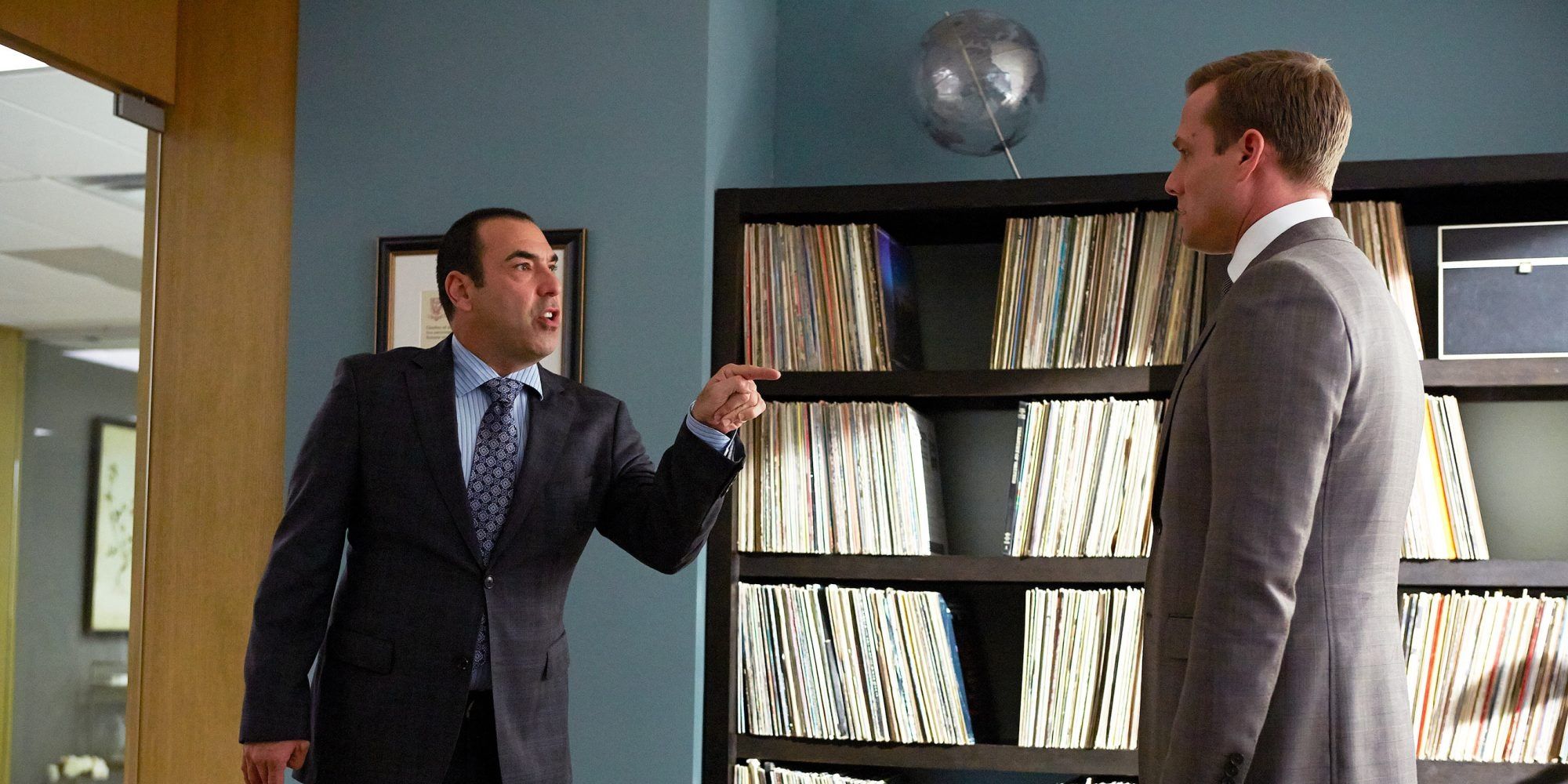 Mike and Samantha make their peace and come up with a plan to take down Faye. Samantha sues her over wrongful termination and Mike represents her. But Faye asks Harvey and Louis to defend her, giving her word it's her last test, as she promises to leave the firm alone if they succeed at representing her. The friction shown in trial shows how good all of these lawyers are. They know they're not playing a charade, it's a real trial in which they have to push the other side to bring out their best tactics.
After a mock trial where Faye is humiliated by Harvey in front of the firm, Katrina secretly gives information about what went down to Mike, and he uses it against her in the real trial. Katrina confesses this wrongdoing to Faye, and she fires her too. Tensions get to a boiling point where Mike and Samantha confront Harvey at the office — but this is all a distraction to get Faye to sign a document where she admits to witness tampering. This pushes her to back down, but not without taking Harvey down with her, unbeknownst to the others. While trying to take them down, Faye only makes them stronger, and everyone gets their happy ending.
Suits ends with Louis and Sheila getting married, and Sheila giving birth immediately afterward. Harvey and Donna get engaged and married on the spot as well. Harvey then tells everyone about the deal he made with Faye – he's leaving the firm to join Mike and Rachel (Meghan Markle) in Seattle. Katrina and Samantha are rehired, turning the firm into Litt Wheeler Williams Bennett. With the series coming full circle, Mike pretends to interview Harvey to see if he's worthy of getting hired. Suits is a show that, though running for several seasons and having a major cast overhaul, survived and thrived during its long run.