Editor's note: The below contains spoilers for the Futurama revival.
The Big Picture
Fry and Leela's relationship in Futurama has moved past the tired will-they-won't-they trope and is now in a more mature and stable place.
The revival of Futurama in its latest season has allowed Fry and Leela to make progress in their relationship, including moving in together.
The current status of Fry and Leela's relationship in Futurama shows growth and maturity for the characters, and the new season has been more enjoyable because of it.
It's 2023, and the television landscape has experienced a dramatic shift. It's completely different from what it was ten years ago, but one thing that is comforting amidst all the change is that Futurama is back with new episodes as part of Hulu's original streaming lineup. While things in the realm of television are pretty different since the last time Futurama was on the air on Comedy Central in 2013, Futurama is still, much like Bender (John DiMaggio), consistently great. However, while Season 11 of Futurama kicks off with most of the status quo largely restored, one of the biggest changes involves the status of Fry (Billy West) and Leela's (Katey Sagal) relationship. Season 11 thankfully begins opting not to reset Fry and Leela's relationship back to square one. Their fulfilled romance has provided excellent progression for the series and the two characters overall. It's time to take a look at how Fry and Leela's relationship has been a refreshing change of pace for Season 11 of Futurama.
RELATED: 10 Underrated Futurama Episodes
Fry and Leela's Perpetual Will-They-Won't-They Loop Makes Up Most of 'Futurama's Original Run
Ever since the show's first season, Fry and Leela are set up as the show's designated romantic pairing. However, even if Fry and Leela are destined to be a couple, the pairing results in a perpetual loop of will-they-won't-they. It's the type of conflict that drives romantic subplots of many television shows, and unfortunately, it can become tiresome. Whenever Fry and Leela make progress and something finally happens in their relationship, they take a couple of steps forward and then five steps back. The direct-to-DVD Futurama movie Into the Wild Green Yonder ends with Fry and Leela declaring their love for one another. At one point, it appeared that Into the Wild Green Yonder was the formal end to the series. The adventure ended with the entire Planet Express crew as fugitives and about to travel through an unpredictable wormhole, but at least they were all together — not to mention that Fry and Leela finally had a breakthrough in their relationship and were together at last.
However, that all changed once the show was revived yet again, this time with a new season on Comedy Central in 2010. Unfortunately, despite what happened in Into the Wild Green Yonder, the Comedy Central premiere, "Rebirth," puts their relationship back into an uncertain status, as Leela still needs to work out her feelings for the newly regenerated Fry. Fry and Leela would eventually get back together and start dating again, but it was disappointing to see their relationship regress again after everything they had been through up to that point. If anything, backpedaling on Fry and Leela's relationship in "Rebirth" felt more forced, contrived, and artificial than a natural storytelling outcome.
In the show's previous final season on Comedy Central in 2013, Fry sought to propose marriage to Leela in the then-series finale, "Meanwhile." After a sequence of typical Futurama shenanigans, the episode concludes with a heartwarming, bittersweet, and emotional moment. Fry and Leela are together, but the rest of the universe has been frozen, locked in a single moment after Fry inadvertently destroys Professor Farnsworth's time button. At the very least, Fry and Leela live a happy life together for decades, and they aren't lonely because they have each other. However, the end of the finale discloses an elderly Fry and Leela meeting Prof. Farnsworth, revealing that he repaired the time device to reset the universe back to the time before he conceived of the time travel device. Although the incident will reset the universe back in order, Fry and Leela will also lose all their memories of themselves as a couple. However, Fry and Leela are happy with the idea of going "around again," creating another lifetime of memories. The episode ends with the pressing of the time button and the understanding that the universe is being reset.
'Futurama's Revival Finally Moves Into New Territory for Fry and Leela
Ten years later, the latest revival of Futurama picks up right where "Meanwhile" left off in the season premiere, "The Impossible Stream." However, it looks like the "antichroniton blast" didn't completely erase all of Fry and Leela's memories after the reset, and they're still embracing each other in the same location. Following the reset, they regain their genetic youth. As the episode progresses, it's later made clear that Fry and Leela are still in a relationship when Hermes makes it clear that Leela should not pass her "girlfriend duties" onto him. Thankfully, the series' return opens with Fry and Leela's romantic relationship intact, and it isn't resetting years of progression that gets them to that point.
This change is refreshing because the show has finally moved past the rut of Fry and Leela being stuck in their previously perpetual will-they-won't-they loop. While Fry and Leela being together is part of the newly established status quo, it hasn't hurt the show at all in terms of quality. Season 11 has been continually exceptional, mixing Futurama's unique blend of sci-fi and comedy, topical humor, along with some superlative emotional, heartwarming episodes, such as "Children of a Lesser Bog" and "Parasites Regained."
More importantly, now that Leela and Fry are finally together, the show is taking a chance to make some decent progress in their relationship. In the newest season's fifth episode, "Related to Items You've Viewed," Fry and Leela move in together. Of course, the egotistical, narcissistic Bender isn't happy about Leela getting all of Fry's attention, so he retaliates by getting a job at the Draconian "Momazon," owned by Carol "Mom" Miller (Tress MacNeille) of MomCorp. As Fry and Leela adjust to this new step, they even bicker about all the new furniture they brought from Momazon cluttering up their apartment. The fight isn't a major obstacle for the couple because it's simply their first "moving in together" fight. It's no big deal, and they quickly make up. Later in the episode, they also reconcile with Bender at the end. The episode concludes with Fry and Leela still living together, and it does not appear to be a major problem, at least for now.
What's Next for Fry and Leela in 'Futurama'?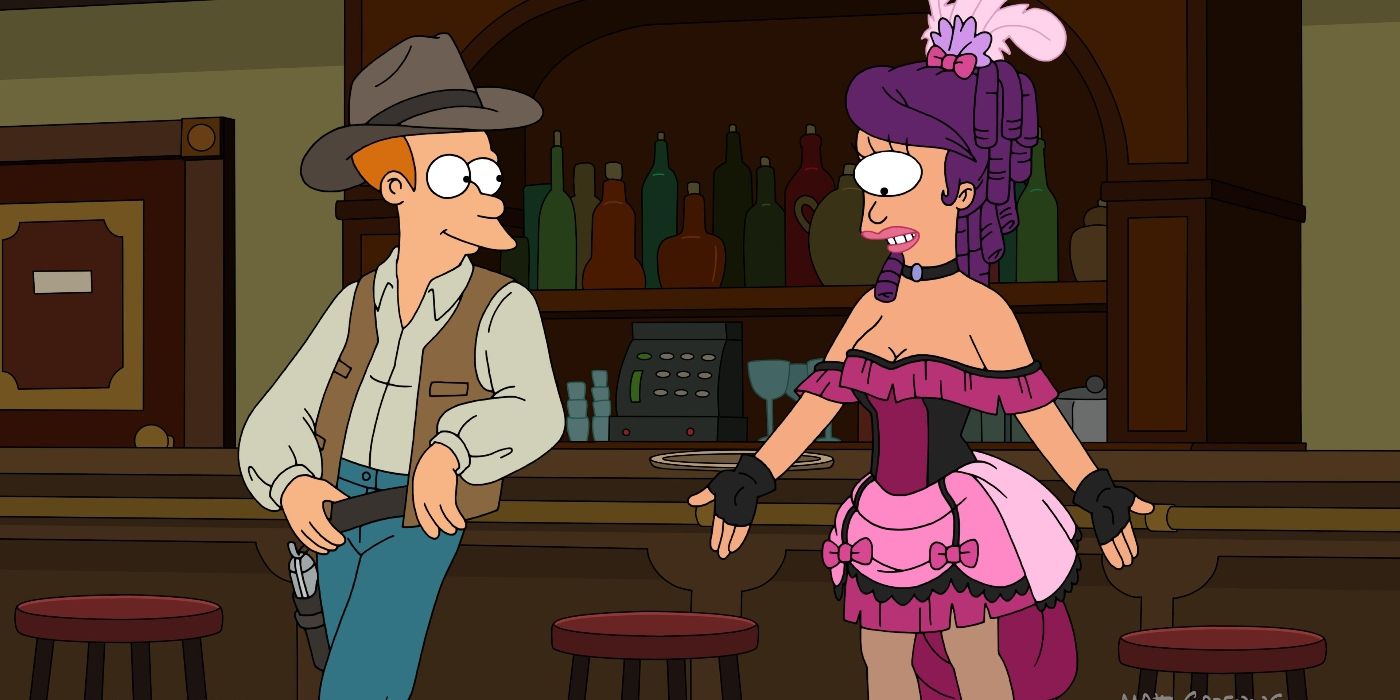 What's great about the current status of Fry and Leela is that, although the characters are largely still the same, they've matured a little bit. With these recent developments, it appears Futurama's characters are gradually growing and moving on to the next steps of their lives. Case in point, in "Children of a Lesser Bog," Amy and Kif finally return to Kif's home planet to collect their children, and despite some initial struggles, Amy has embraced motherhood and loves her new children. The drama of Fry and Leela's relationship history is understandable, but after 24 years, it would be tiresome if the show had stuck to keeping Fry and Leela's romance in an uncertain place. It's far more relaxing to watch the show without worrying about whether the two of them might break up at the end. Fry and Leela have experienced many trials and tribulations together, and their relationship has become stronger as a result.
The new season of Futurama has been far more enjoyable with the writers finally allowing Fry and Leela some happiness together and not frustratingly resetting their relationship back to where it was years ago. Hopefully, this is a lasting change that continues through the current run of the series.
The latest Futurama revival currently consists of twenty episodes. New episodes of the latest season debut weekly on Mondays on Hulu.