Posted in: BBC, Doctor Who, Preview, Trailer, TV | Tagged: bbc, doctor who, Millie Gibson, Ncuti Gatwa, preview, russell t davies, series 14
---
Based on the BBC's website, it looks like we might be getting the BBC & Disney+'s Doctor Who Series 14 sooner than we expected next year.
---
By now, we all know how the immediate future is looking for the BBC, Disney+, and Showrunner Russell T. Davies's Doctor Who. In November, we celebrate the show's 60th anniversary with a three-episode special event that sees the return of David Tennant (as the Fourteenth Doctor) and Catherine Tate (Donna Noble) – as well as our Fifteenth Doctor, Ncuti Gatwa. From there, Davies & Gatwa will be joined by Millie Gibson (Ruby Sunday) to begin a new run of adventures that kick off with a Christmas Special and then Series 14 sometime in 2024.
Now, when we heard that the upcoming new season would be hitting in 2024, we just assumed that it would be in the late summer or early fall – allowing for some time to build up to it after ending 2023 with some serious new "Who." But based on what was posted on the BBC website (under the "Culture" section), it looks like the new series will be arriving earlier than expected: "Three hour-long special episodes of Doctor Who will be available from November 2023, with a Christmas special dropping in December and a new season in Spring 2024." Could it be a misprint? Maybe the writer was working off of an assumption? Could be – stay tuned!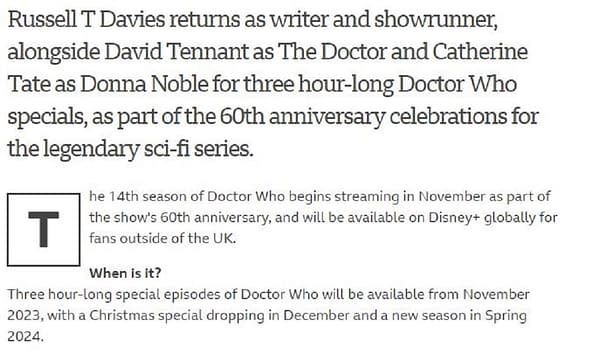 Along with Jemma Redgrave (Kate Lethbridge-Stewart), Aneurin Barnard (Roger ap Gwilliam), and Jack Forsyth-Noble (Will), Doctor Who Magazine #589 also confirmed that Bhav Joshi (Wedding Season), Eilidh Loan (Traces), Pete MacHale (Gangs of London), Miles Yekinni (Slow Horses), and Hemi Yeroham (Mamma Mia!) have joined the cast for the new series. In addition, Jinkx Monsoon (RuPaul's Drag Race) was also confirmed to have joined the cast – followed by Jonathan Groff (Glee, Mindhunter) and Indira Varma (Obsession, Game of Thrones) – as The Duchess – in May 2023. Bonnie Langford was confirmed to be returning as Melanie Bush in June 2023, along with Lenny Rush (Am I Being Unreasonable) as Morris. In early August 2023, we also learned that Gemma Arrowsmith (Gemma Arrowsmith Sketched Out) and Mary Malone (Vera, The Prince) had joined the Christmas Special – while Majid Mehdizadeh-Valoujerdy (Hollyoaks) and Billy Brayshaw (Still So Awkward) had joined the Series 14 cast.
---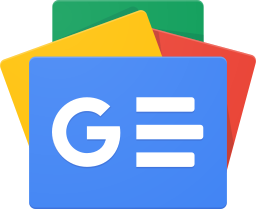 Stay up-to-date and support the site by following Bleeding Cool on Google News today!