Editor's Note: The following contains spoilers for Ahsoka Episode 3.
The Big Picture
Ahsoka is determined to train Sabine in the ways of the Jedi, even though she is not Force-sensitive. This unconventional approach challenges the traditional Jedi wisdom.
Huyang, the guardian of Jedi lore, mentions that Sabine would not have been accepted by the Jedi Order. However, he suggests that she fits into Ahsoka's line of "non-traditional Jedi", highlighting their unconventional approach to training.
Ahsoka's lineage of Jedi is filled with dysfunction and imbalance, including Anakin Skywalker, Qui-Gon Jinn, and Dooku. This history influences Ahsoka's training methods and provides a foundation for her to teach Sabine.
Training a Padawan can't be easy for any Jedi, but what if you're not an actual Jedi and your Padawan isn't even Force-sensitive? That's what Episode 3 of Ahsoka, "Time to Fly" is all about, as the title character (Rosario Dawson) is trying to figure out how to train Sabine Wren (Natasha Liu Bordizzo) in the ways of the Jedi. It's been pretty clearly established that Sabine is not Force-sensitive, but both master and apprentice are determined to continue with her training, to the point of us actually pondering if she really isn't Force-sensitivity – thanks to Dave Filoni's writing and his and Steph Green's directing, so far.
But a particular moment in the episode may hint at a future for Sabine as a Jedi. Shortly before arriving in the Denab system, Huyang (David Tennant) mentions to Ahsoka that Sabine would've never been accepted for training by the Jedi Order, but that Ahsoka herself does "come from a long line of non-traditional Jedi," so if that's taken into account, Sabine should fit right in. We know Huyang to be rather confusing at times despite his wisdom, but what exactly is he getting at when saying this to Ahsoka?
What Does Huyang Mean by "A Long Line of Non-Traditional Jedi"?
First, Huyang may have his own way of expressing himself, but he certainly didn't mean it as an insult. As guardian of the Jedi lore and lightsaber architect, he has trained countless lines of Jedi throughout the centuries, so he definitely knows what he's talking about and, as a droid, is merely stating a fact. Ahsoka does come from a long line of Jedi who didn't really abide by traditional Jedi wisdom and often sought answers to their issues (related to the Order or not) by unusual means.
What exactly is a "line of Jedi", though? Jedi obviously are not allowed to have biological families and romantic ties, but they do have their own ways of passing on a legacy. When a master trains an apprentice, this is the most special relationship two Jedi can share, something directly taken from the world of martial arts. Sometimes, those involved even perceive this bond as akin to that of parent and child or siblings. It's the closest they have to the idea of direct family the Jedi have, even if they aren't allowed to nurture personal bonds.
Ahsoka's line is perhaps the most unusual the Jedi Order has ever had, and goes all the way back to Yoda (Frank Oz/Tom Kane) himself – and not in the sense that he trains younglings. She was trained by Anakin Skywalker (Hayden Christensen/Matt Lanter) as we see in The Clone Wars, who was trained by Obi-Wan Kenobi (Ewan McGregor/James Arnold Taylor). Anakin and Obi-Wan's relationship is one of the defining traits of the Skywalker Saga in the movies and only starts because of the actions of Obi-Wan's own master, Qui-Gon Jinn (Liam Neeson), in The Phantom Menace. We learn in Attack of the Clones that Qui-Gon, in turn, was trained by Dooku (Christopher Lee/Corey Burton), and the audiobook Dooku: Jedi Lost shows us that Dooku was Yoda's Padawan.
Ahsoka's Jedi Legacy Is Connected to All the Major Players of the Star Wars Prequels
Star Wars fans in general must have read the people that comprise Ahsoka's Jedi line and shuddered because that is a very dysfunctional family. The movies are only the tip of the iceberg when it comes to in-universe storytelling in Star Wars, there's always much more to be told. People may think that a master is the wise one and the apprentice is bold (or reckless), but this particular group of Jedi is filled with egos and power to a point in which the only result could be the end of the Jedi as they knew it. Three of them left the Order at some point (Ahsoka, Anakin, and Dooku), one was seen as a maverick (Qui-Gon) and the remaining two were the blueprint of what a Jedi should be – none of them a healthy example of balance, though.
For starters, Yoda was already the Grand Master of the Jedi Order when he took Dooku as his apprentice, even though he hadn't had a Padawan for centuries and kept on with all the responsibilities of Grand Master. For Dooku, this was already a lot of pressure, and he already knew he came from the ruling house of Serenno. The result is that, although a kind and thoughtful Jedi, Dooku grew up very insecure about his own place within the Order, which eventually led to him leaving and falling to the Dark Side, as we see in Tales of the Jedi.
Still, Dooku was a good master to Qui-Gon, one open-minded enough to allow his apprentice to seek different philosophies and points of view, like the Living Force. The rest of the Order was not as open, though, so Qui-Gon was often at odds with the Jedi Council, to the point of turning down a seat as mentioned in Claudia Gray's excellent novel Master & Apprentice. His own Padawan, Obi-Wan, was the exact opposite of him, actually, and was seen as the ideal of what a Jedi should be during the Clone Wars – and accepted a seat on the Council.
Qui-Gon's death took a heavy toll on Obi-Wan's peace of mind, though, and was also one of the many traumas Anakin Skywalker would grow up with. Obi-Wan trained Anakin according to Qui-Gon's wishes but was a completely different master than Qui-Gon would've been. He and Anakin became the best of friends and were seen as "two halves of a single warrior", as put by the Revenge of the Sith novelization, but were fundamentally different as Jedi. Dave Filoni himself famously mentions how important it was that Qui-Gon train Anakin, and how that ultimately sealed the fate of the Jedi.
What Does This Mean for Sabine's Training With Ahsoka?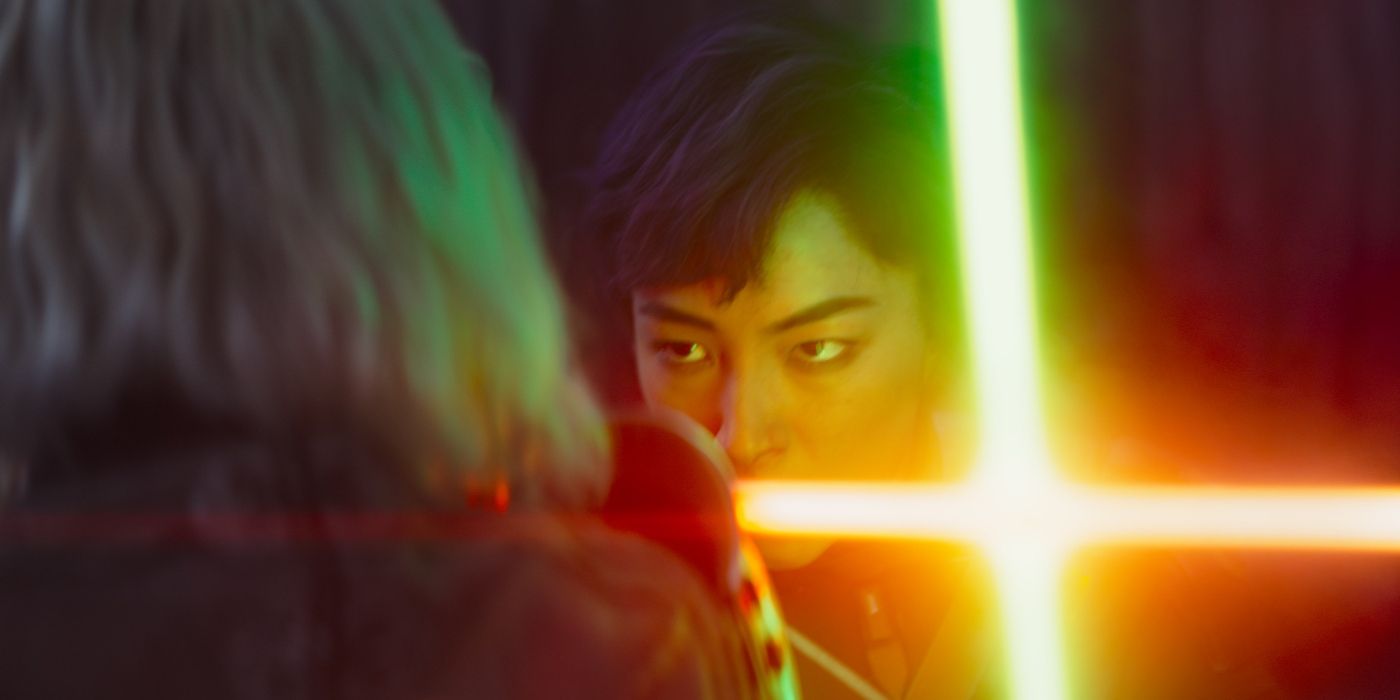 Huyang mentions that Sabine would've never been accepted by the Jedi Order, but finishes his line in a more uplifting tone by saying that she fits right in Ahsoka's line of "non-traditional Jedi". We're happy to hear this, of course, but it doesn't change the fact that a non-Jedi taking someone who's not Force-sensitive to train in the ways of the Jedi is still very strange. This is the most unconventional method possible, and, somehow, it still feels just right given Ahsoka's history with the Jedi. Although Obi-Wan and Yoda really were the Jedi every youngling and Padawan aspired to be in the Order, we can clearly see that Anakin has much more in common with Qui-Gon and Dooku (the Jedi, not the Sith Lord) in the sense of allowing unconventional ideas to be part of his training with Ahsoka.
Anakin joined the Order as a child, but he was deemed too old by every single Jedi who evaluated him, so, by all accounts, he also wasn't a suitable candidate just as much as Sabine isn't, despite his abilities, and was only accepted because of Qui-Gon's defiance. In fact, it's Qui-Gon's philosophy that provides Ahsoka with theoretical foundations to train Sabine. As a student of the Living Force, Qui-Gon believed that every single being is a living manifestation of the Force and, therefore, can develop skills and abilities with proper training. This idea is mentioned again in The Last Jedi when Luke Skywalker (Mark Hamill) is training Rey (Daisy Ridley) and is also seen by some as an explanation for gifts like, for example, superior piloting skills.
In that sense, Sabine is a perfect blank slate for Jedi training, and she even has some notion of what it takes and how the flow of emotions works given that she trained to wield the Darksaber with another Jedi, Kanan Jarrus (Freddie Prinze Jr.) in Star Wars Rebels. Also, given that Ahsoka isn't a Jedi and shows no interest in ever fully becoming one, her intentions with Sabine aren't really of making her a fully-fledged Jedi, but rather a warrior with skills and understanding of her gifts. "Jedi" is a word we use to make it simpler, but we must bear in mind the Order was never a bastion of balance because the Force is inherently balanced, they had just grown arrogant to the point of seeing themselves as the solution to Force-related problems, not part of a whole system. And that Ahsoka understands perfectly, and so should her Padawan.