The Big Picture
Captain Teva is a key character in the "Mando-verse" and has appeared in multiple Star Wars series, similar to Phil Coulson in the Marvel Cinematic Universe.
Teva's role is important because he takes action to help those in need, unlike the complacent New Republic officials who are failing to protect the citizens.
Captain Teva is played by Paul Sun-Hyung Lee, a major Star Wars fan and talented actor known for his passion for the franchise and crafty cosplay builds. He brings a relatable and honorable presence to the character.
We are now halfway through Ahsoka's season, and Episode 4 has the return of a beloved character we were all eager to see again. A war hero who had already left his mark in earlier Star Wars stories, but who we just can't get enough of. We're talking, of course, of Captain Carson Teva, played by the great Paul Sun-Hyung Lee. In Ahsoka, he shows up in Episode 4 as part of General Hera Syndulla's (Mary Elizabeth Winstead) small squadron that goes to the planet Seatos in the hopes of helping Ahsoka Tano (Rosario Dawson) and Sabine Wren (Natasha Liu Bordizzo) stop the return of Imperial Grand Admiral Thrawn (Lars Mikkelsen).
We've seen Captain Teva many times before, though. He's one of the key characters in the so-called "Mando-verse," the corner of Star Wars that comprises the series developed by Dave Filoni and Jon Favreau. He has played at least a small role in each of those series and plays in the Mando-verse a role similar to the one played by Phil Coulson (Clark Gregg) in the Marvel Cinematic Universe, an agent of the good guys who's always present, either helping the main heroes or getting them to help him in a worthy cause.
Who Is Captain Carson Teva?
Captain Teva is someone who is due some major backstory in Star Wars because of the importance of the role he plays in the Mando-verse. He's been in every show so far, but we know very little about who he was before this. The only thing known about his life before the New Republic is that he was also part of the Rebel Alliance during the Galactic Civil War against the Empire. In Episode 4 of The Mandalorian's second season, he mentions to Marshal Cara Dune (Gina Carano) that he served on Alderaan around the time of the planet's destruction by the Death Star, as seen in A New Hope. We also know that he served with the astromech droid R5-D4, another silent hero of the Rebellion.
RELATED: 'Ahsoka' Episode 4 Gives Us the Best Part of Star Wars
His first official appearance took place a little earlier, in Episode 2 of the second season of The Mandalorian. He and his partner Trapper Wolf (played by Dave Filoni himself) chase the Razor Crest after Mando (Pedro Pascal/Brendan Wayne/Lateef Crowder) fails to comply and activate the ship's beacon to the icy planet Maldo Kreis. As the Mandalorian is carrying important cargo (our priceless bundle of joy Din Grogu), he can't risk Rangers approaching his ship, and the chase ensues. Mando wrecks his ship, and he and Grogu are almost eaten by monstrous spiders, but Teva and Wolf rescue them and drop the charges. Back to Episode 4, we see him again on Nevarro, where he takes note of the destruction of the Imperial Remnant base and convinces Cara Dune to join the New Republic as a Marshal.
Later, in The Book of Boba Fett's episode "Return of the Mandalorian," he meets Din Djarin again, this time on Tatooine's orbit as the Mandalorian is taking his new ship, an N1 Starfighter, for a test drive. At first, they didn't recognize each other over the comms, but Mando sped up and flew away the second he realized who he was talking to, surely remembering Teva's promise to kick his beskar-clad butt again if his ship didn't run a beacon the next time they met — now guess if that N1 was running a beacon.
The last time we see Captain Teva before his part in Ahsoka, he's trying to convince the New Republic to aid Nevarro again, as the planet is now under attack by Gorian Shard's (Nonso Anozie) pirates, but fails to gather support. The new government is very insecure about getting their hands dirty, especially in service of a distant system in the Outer Rim. Outraged, Captain Teva contacts his old Rebellion partner R5-D4, who now belongs to Din Djarin. That's how Teva is able to locate the Mandalorian covert and convince them to help Nevarro. Everything works out, as the Mandos destroy the pirates and Magistrate Greef Karga (Carl Weathers) offers them safe haven whenever needed.
Why Is Captain Teva So Important in the Mando-Verse?
Although a supporting character with minor parts in the series he shows up, Captain Teva is the single thread that's present in all of them. These series all take place in the fringes of the galaxy, in distant star systems in the Outer Rim of the galaxy, where people have suffered the most in the hands of the Empire and keep suffering in the hands of outlaws that try to fill the power vacuum left after the war.
The New Republic is struggling to govern the galaxy but is already failing by refusing to take part in the protection of the citizens who need them. What's worse, this complacency is allowing a lot of space for the Imperial Remnant to organize with cells such as Moff Gideon's (Giancarlo Esposito), as well as Morgan Elsbeth's (Diana Lee Inosanto) mission to bring back Grand Admiral Thrawn. We've seen Teva try to reason with New Republic officials to persuade them to offer at least some help, and also Hera Syndulla, a general, plead to Chancellor Mon Mothma (Genevieve O'Reilly) herself for reinforcements in the mission to stop Elsbeth, but none of them succeeded.
So Captain Teva is important because he's one of the few New Republic officers who chooses to take action and do what he can to help those in need. As part of the Adelphi Rangers, he patrols Outer Rim planets to ensure at least some New Republic presence and show people that it's there for them (in theory, at least). His joining Hera's squadron in the mission to Seatos is no surprise, as he mentioned to Cara Dune back in The Mandalorian that he knew something evil was happening and that the New Republic wouldn't want to act until it was too big to handle.
Captain Teva Is Played by Major 'Star Wars' Geek Paul Sun-Hyung Lee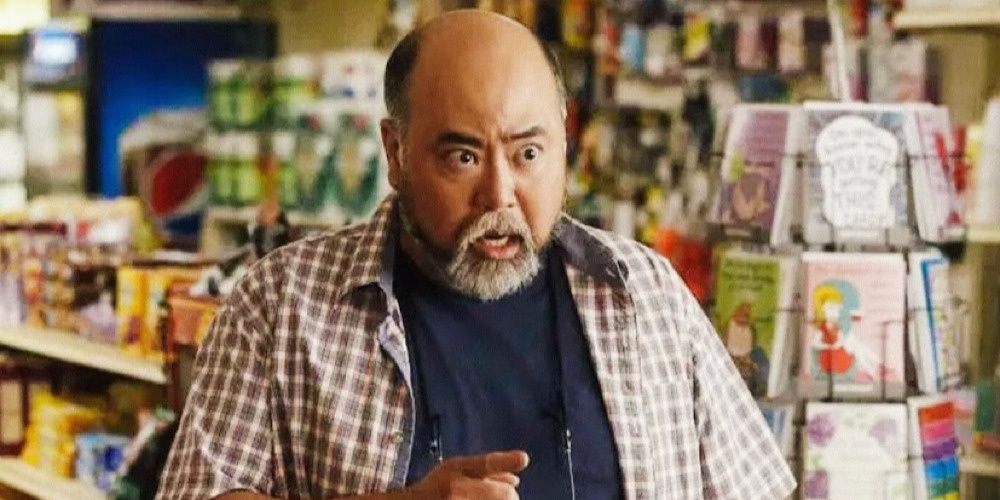 He may be one of the most honorable people in the galaxy, but seeing Captain Teva in Ahsoka and every other story possible is a joy because he's played by a fellow Star Wars fan Paul Sun-Hyung Lee. He's a great actor who previously played Appa in Kim's Convenience and taught us to just say "Okay, see you!" every time we find ourselves in a conversation we don't want to be in. As Captain Teva, we hoped to see him get more screen time and backstory in Rangers of the New Republic, but that didn't work out, unfortunately, so hopefully we'll see him in Dave Filoni's New Republic movie instead.
But relatable roles aside, he's also known for his passion for Star Wars and crafty cosplay builds, which led to a fun interaction when he saw the costume he'd be wearing for a photo shoot. Legend says the helmet Captain Teva wears in The Mandalorian wasn't ready for the occasion, so he had to wear an actual prop from the original Star Wars movie, and he recognized the pattern on that helmet as the one that belonged to Biggs Darklighter (Garrick Hagon), Luke Skywalker's (Mark Hamill) friend and fellow Rebel pilot. When asked how he knew that, he answered like any of us would: "Because I'm a nerd." Amen.
In Ahsoka, Captain Teva joins the newest iteration of the Phoenix Squadron, along with other four pilots. Among them is Lieutenant Lander, played by the equally awesome Brendan Wayne, the man who's inside Din Djarin's armor for most of The Mandalorian, so that's another fun homage to someone who has contributed a lot to Star Wars lately. What we want to know now is where Zeb Orrelios (Steve Blum) is, as he was a member of the Phoenix Squadron in Star Wars Rebels and currently serves in the Adelphi Rangers with Captain Teva. If Paul knows and is reading this, please tell us he'll be there next time. Okay, see you!