Posted in: Arcade, Game Hardware, Games, Review, Video Games | Tagged: Arcade Fighting Stick, Dark Matter, Monoprice
---
Monoprice sent us a Dark Matter Arcade Fighting Stick to try out, as we ran it through several games to test the unit out.
---
A while ago, the awesome people at Monoprice sent us a brand new gaming item to try out for a review as we got our hands on the new Dark Matter Arcade Fighting Stick. Monoprice has sent us some killer items in the past, and we've always enjoyed giving them a shot with gaming stuff, especially the items that come from their Dark Matter line. At the time this was sent to us, the team was touting this as one of the best sticks on the market, and that it would be a step up from a lot of the current models you'd see frequenting esports tournaments. At the time, we didn't have a ton to judge it on beyond games that had already been out for a few years, so we decided to give it a moment and waited until Street Fighter 6 came out to really put it through the rigors. During that time, the stick actually ran out of stock, but now that it's back in the shop, it's finally time to give our thoughts on this latest piece of competitive hardware.
As you can see from the images here, the term Dark Matter holds true as this is an all-black mix of plastic and metal design work, with a space theme for the background art. (Which, if you're not feeling it, can be changed out.) This model comes with several USB cords in the back, stored in a convenient compartment so you can keep them hidden away no matter which one you're using at the time. You also get a hex-screwdriver to open it up and make adjustments as needed, which we'll discuss in a moment. The closest model design I can compare this to is the Razer Kitsune, in that you have room for your hands without it feeling uncomfortable in your lap or on a table as you play. This particular design comes with Sanwa Denshi stick and buttons to give it that familiar arcade feeling.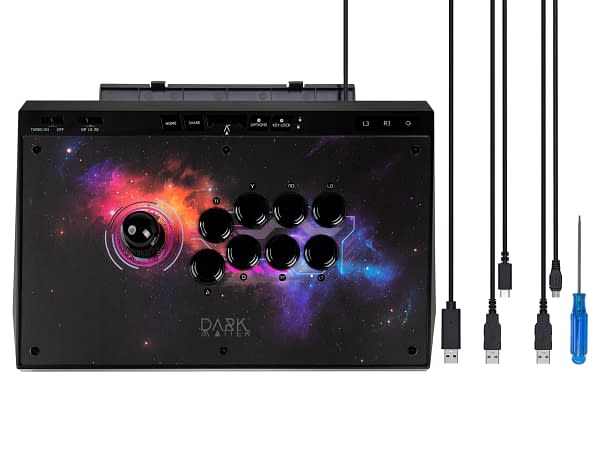 The stick uses Xbox/PC controls by default, however, that can easily be changed by opening it up and switching up the button controls. The bottom of the Dark Matter Arcade Fighting Stick allows you to easily program buttons as you see fit with a color-coded wiring system. For example, inside the box, the A-button is color-coded to purple. If you wish to switch that up with the B-button, which is color-coded to black, all you need to do is pull the wire connectors to both buttons out and swap them to the inputs that are still read by the system, but are now in a different place as customized by you. Could you go through and map the controls? Sure. But the concept behind getting an arcade stick is to make it customized for your playstyle without having to go through menus every single time. This stick was primarily designed to be on PC, PS5, and Xbox Series X|S, but a controller passthrough can be used for previous-gen models. Shockingly, we could hook it up to a Switch with it docked and had no issues. And if you're using a gaming port for mobile, you might need a software update on the platform, but it's workable without much issue.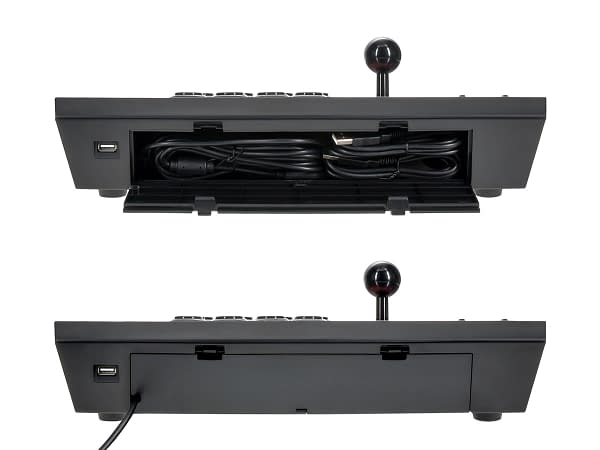 When it came to actual gameplay, I had very few issues working with it. I tested it on PlayStation first and gave titles like Guilty Gear -Strive- and Mortal Kombat 11 a spin, as both games responded well to the stick without any pushback or missed inputs. I admit, I don't use stick too often, so I had to get back into the swing of things. But once I was able to chain combos like it was nothing, I couldn't see myself going back to a controller for a minute. I gave the stick a spin on some Switch titles, like the recently released Disney Illusion Island just for fun, and it handled really well when it came to platforming. The real test came when I fired up Street Fighter 6 on Xbox. I ran through every character on the roster, even the people I had never played before, and instantly got schooled on. Almost every single character responded well to the controls, and I never thought I was missing out on a button input or a response. This was a genuine arcade fight feel through every match, and it was extremely satisfying when I scored an easy victory.
Overall, playing with the Dark Matter Arcade Fighting Stick. Was a fantastic experience. It wasn't too much trouble to do what I wanted to do, and it rarely felt like I had a bulky piece of gear. What's more, the stick is only $120, which is a hell of a price difference between them and a lot of other high-profile sticks on the market. If you're looking to change things up and get a different stick for competitions or just for fun at home, this is a good option.
---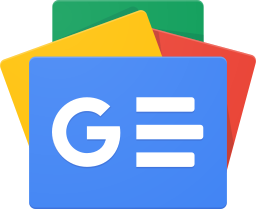 Stay up-to-date and support the site by following Bleeding Cool on Google News today!